Get set for summer strawberries
17/07/2014
Strawberries grown by one of Australia's best known producers, Piñata Farms, will be available on Eastern Seaboard supermarket shelves year 'round for the first time from this spring.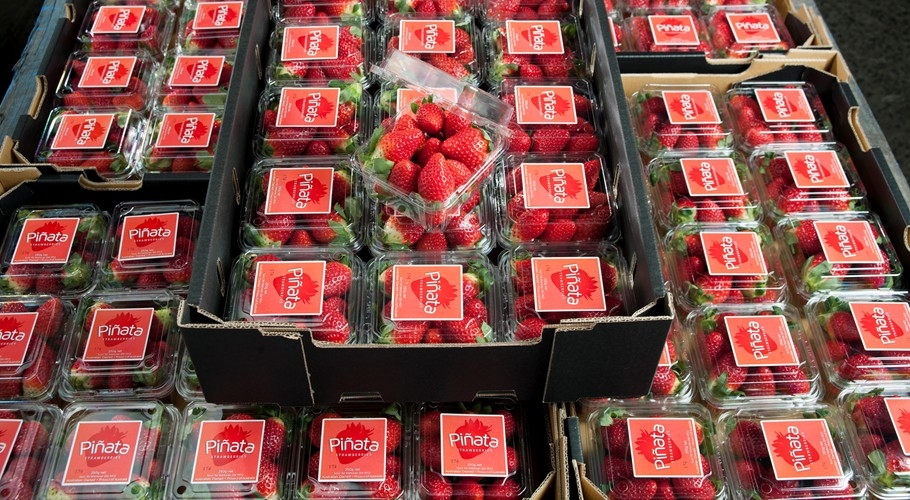 Piñata Farms, which has grown strawberries at Wamuran in south-east Queensland since 2000, will harvest its first spring and summer crop at Stanthorpe in Queensland's Granite Belt from September, heralding the start of year 'round production.
Piñata strawberries will be available under the Piñata brand at Coles and Woolworths supermarkets throughout Queensland, New South Wales and Victoria, as well as selected independent retail outlets.
"This is great news for Piñata strawberry lovers because they can soon indulge in our strawberries all year," managing director Gavin Scurr said.
While strawberries are grown year 'round in six states of Australia for national availability, Queensland strawberry production has traditionally been between June and October.  Piñata Farms will be among a handful of Queensland producers growing fruit in the summer months.
"We've been able to extend our traditional production period specifically because of our new growing region in Stanthorpe. Our two distinct growing regions – specifically matched to three top-tasting varieties – will deliver consistently flavoursome, large strawberries.
"We have selected varieties for optimum flavour and bright red colour as well as consistent size and shape. At Wamuran, we grow the Festival and Fortuna varieties, while at Stanthorpe we predominantly grow the Albion variety. They are all big, luscious, sweet strawberries with the Albion being the largest and sweetest of them all.
"Our Wamuran farm will supply fruit throughout winter, while our Stanthorpe farm will produce  spring and summer fruit until Wamuran production begins again next autumn."
This season's first Piñata strawberries were harvested at Wamuran in May and volumes have steadily increased during winter.
"We had the perfect pre-harvest conditions leading into the season with mild, dry days ideal for producing quality fruit. Conditions could not have been better for our Stanthorpe farm as it comes on line for the first time," he said.
Mr Scurr said the Stanthorpe farm – at an altitude of 990m – was acquired specifically to grow summer strawberries.
"When it comes to buying strawberries, taste is everything. We want consumers to have beautiful eating and good-looking strawberries so they buy them again and again.
"A good strawberry typically is sweet and juicy. It should be of a conical shape with plump shoulders tapering to a point and have a solid centre."
Stanthorpe-based strawberry production manager, Sean Riley, said consumers could expect super-sized delicious strawberries from Stanthorpe over summer.
"The Albion variety, which produces particularly large berries, is best suited to Stanthorpe because the cool temperatures also increase sweetness in the fruit," he said.
Piñata strawberries are plucked off the plant by hand when fully ripened. Fruit is chilled to retain freshness before being packed and sent to supermarkets.
Where to find Piñata Farms strawberries
Piñata strawberries are available in 250g punnets at Coles and Woolworths supermarkets throughout Queensland, New South Wales and Victoria, as well as selected independent retail outlets.
Selecting and storing tips
Strawberries do not ripen after picking so choose fruit which has been picked fully ripened.
Ripe strawberries should be bright red, have a natural shine and fresh-looking green caps.
Store in the fridge until ready to eat. As they taste best at room temperature, remove just before eating.
Moisture can soften strawberries so gently rinse and pat with a paper towel to remove excess water before eating. Leave the green caps intact to rinse.
To hull, gently twist or cut the caps off.
Strawberries are best eaten within five days of purchase.
Piñata strawberries in the kitchen
Strawberries are incredibly versatile. They can be eaten fresh as a snack, packed into lunch boxes or used in sweet or savoury dishes. They can be halved lengthways or across, cut into wedges or sliced or diced. They can be macerated, roasted, grilled, skewered and dipped or used as a colourful and delicious garnish. They can also be preserved, frozen or puréed.
Super strawberry serving suggestions
Macerated: Marinate in balsamic vinegar and caster sugar, Cointreau and icing sugar, Tia Maria, Marsala or orange juice and caster sugar. Serve with ice-cream, cream, sour cream or yoghurt.
Sweet treats: Add to waffles, pancakes, crepes, sponge or chocolate cakes, trifles, cheesecakes, pavlova or trifle.
Salads: Combine with baby spinach, blue cheese and pine nuts or beans, fetta and basil.
Drinks: Juice with watermelon or apple, blend with yoghurt for smoothies or lassis, or add to champagne cocktails.
Skewers: Thread whole onto skewers, dip in melted chocolate, toffee or crushed nuts.