Sweet change for seasoned grower
17/07/2014
When Piñata Farms' Stanthorpe-based strawberry production manager, Sean Riley, was looking for a change of location and a new challenge in horticulture, the perfect opportunity presented itself at just the right time.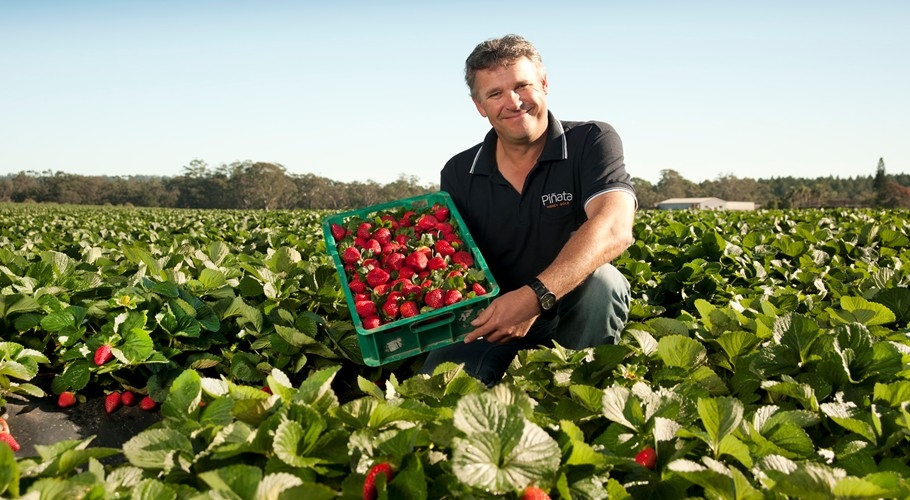 New Zealand-born Sean had worked in the production of raspberry, boysenberry, hops, olives and citrus crops in his homeland and Australia before relocating from Mundubbera in the Wide Bay area to Stanthorpe in Queensland's Granite Belt region to develop and manage Piñata Farms' most-southerly strawberry farm for commercial production.
"Bringing the Stanthorpe farm online by September 2014 will also ensure the beginning of Piñata Farms' year-round strawberry production for the first time. Until now, Piñata has not produced strawberries outside of Wamuran on the Sunshine Coast," Sean said.
Since relocating to Stanthorpe in February, Sean has overseen the planting of some 457,000 strawberry plants, with plans to expand that by another 500,000 in time for the 2015 season.
Stanthorpe to produce spring and summer crops
"The Stanthorpe farm previously operated as an apple farm and was specifically acquired to produce Piñata's spring and summer crops due to its favourable altitude of 990m. Existing infrastructure including packing shed facilities and logistics had to be updated in readiness for the 2014 season."
He said Piñata Farms would join a handful of other Stanthorpe-based strawberry producers growing spring and summer crops outside Queensland's traditional strawberry growing season which fell between June and October.
"We're endeavouring to produce the best warm-weather strawberries from this region and to be a significant producer in terms of volumes," he said.
Sean is also responsible for overseeing strawberry production at Piñata's 45-hectare Wamuran farm which produces some five million punnets between May and late September each year.
Focus on varietal selection
Stanthorpe has approximately 10 hectares under cultivation and is expected to produce nearly two million punnets in its first year of operation from late September this year to May 2015. Up to 50 people will be employed during harvest.
Sean was educated in Brisbane before returning to New Zealand's fertile Tapawera Valley where he worked in various farming operations including managing a hops farm for more than 10 years. He then moved to Adelaide, South Australia where he managed an olive grove for some 12 months and then Queensland's citrus growing region of Mundubbera in 2012, working in citrus production until the opportunity to join Piñata Farms arose.
"The challenge of developing a property for commercial production really interested me, particularly since Piñata had not grown strawberries in this region before," he said.
"The conditions here are really quite different in every way from growing strawberries on the Sunshine Coast but the Albion variety we are growing here thrives in the cool climate and produces super-sweet and large berries.
"Albion strawberries handle frosty conditions very well and we're expecting a big flush in quality fruit coming on as we move closer to the official harvest. While they can also be challenging to grow – as they can be vulnerable to some climatic changes – their flavour is unsurpassed.
"We're confident we're on track to produce as good a quality of fruit here as Piñata is renowned for," he said.