Honey Gold mangoes in top four
20/03/2015
Specialty Australian mango producer, Piñata Farms, has positioned its Honey Gold mangoes among Australia's top four premium mango lines after achieving a record crop this season.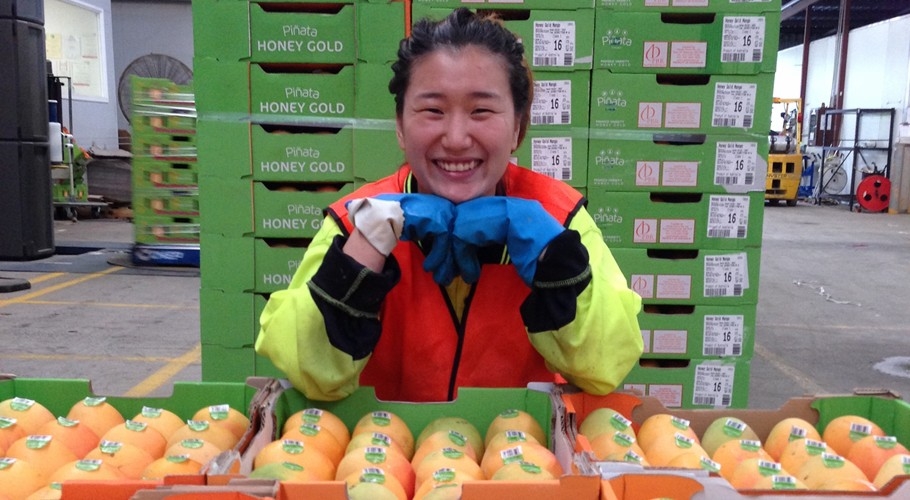 Managing director, Gavin Scurr, said Honey Gold mangoes were now nudging Kensington Pride, R2E2 and Calypso mangoes for market share.
"We are progressively making inroads into the  premium mango market. Honey Gold mangoes have now overtaken Keitt," he said.
Mr Scurr, who is also Australian Mango Industry Association chairman, said Australia's mango industry produced approximately eight million trays per season with Piñata Farms producing about 600,000 trays of Honey Golds.
"That's about seven per cent of volume, or based on industry data, about nine per cent of value. We're on target to achieve a 10 per cent market share by 2018," he said.
"We had a bigger volume of fruit this season because trees in some of our growing regions reached full production for the first time.
"While some consumers don't differentiate between mango varieties, a learning for us has been that you have to have a critical mass for your product to be noticed. Consumers are beginning to see there is value in paying more for premium fruit."
Piñata Farms, in conjunction with 30 third party growers, produces Honey Gold mangoes in five mainland states. Harvesting begins in the Northern Territory in November with picking progressing southwards until it ends in New South Wales and Victoria in March.
In the 2014-2015 season, Queensland produced nearly 70 per cent of the crop followed by the Northern Territory (25 per cent), Western Australia (5 per cent) and New South Wales (one per cent). Victoria produced less than one per cent.
"This is consistent with Queensland having the largest crop base. Climate-wise, it's ideally suited to mango production and our Queensland growers are experienced mango producers," he said.
Piñata Farms increases supermarket program
Mr Scurr said Piñata Farms had focussed on leading supermarket chains nationally this season, significantly increasing the annual quantity of fruit supplied.
A small volume was exported to New Zealand, Singapore, Dubai and Hong Kong.
Growers bounce back
Piñata Farms' third party growers in New South Wales and Victoria are expected to finish harvesting this week with small volumes of fruit available in Sydney and Adelaide until the end of March.
"The season started a little later than usual but was otherwise ideal for mango production.
"Although Tropical Cyclone Marcia hit our Yeppoon and Rockhampton growing regions after picking had finished, our growers had already pruned trees which prevented long-term damage. We're confident with good growing practices there won't be an impact on next season's crop."  
Mr Scurr said Piñata Farms, in line with its growth strategy, would plant an additional 20,000 trees at farms in Darwin and Katherine in the Northern Territory and Mareeba, Queensland between October 2015 and April 2016.
During last season, Piñata Farms also employed a grower liaison officer to support its third party network.