Fruitful Trek for Royal Flying Doctor
17/06/2015
Sunshine Coast-based fruit producer Piñata Farms has raised more than $16,000 for Australia's Royal Flying Doctor Service (RFDS) after completing the annual Outback Trek, travelling 3,242km through four states in a week.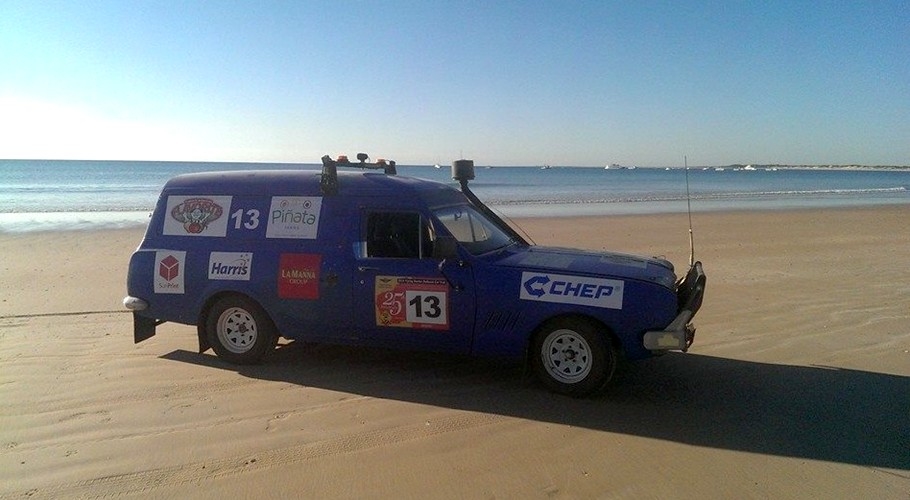 Managing director Gavin Scurr and south Queensland production manager, Tony French, both based at Wamuran, north of Brisbane, drove a 1971 HG Holden panel van from Mildura, Victoria to Byron Bay, New South Wales from May 31 to June 6. It was the second trek for Piñata Farms which first took part in the 25th anniversary event last year.
This year's trek raised approximately $1.3 million with funds still coming in.
Car 13, Roy the HG, finished the trek despite an accident involving an emu outside Packsaddle, remote New South Wales, in which the radiator was destroyed.
"We were on a narrow section of road when two emus ran straight into our path. One got away but there was no way to avoid the other which, unfortunately died. We were pretty shaken up. As a result of the impact, the fan and radiator were smashed," Mr Scurr said.
"A support vehicle towed us to the nearest station about 20km away and another team loaned us their spare radiator so we could complete the trek. Without it, we would have had to wait up to a week for one to arrive at Broken Hill, four hours away. We'll definitely take a spare next year," Mr Scurr said.
He said other than the accident, Car 13 did not have any mechanical issues, with pre-trek modifications paying off. At least four of the 72 cars did not reach the finish line.
"Driving conditions were quite different compared with last year (Northern Territory to Western Australia). Although we had very little corrugation, the roads were softer and sandier and there had been rain which left water and mud on the side of the road. As a driver it was pretty taxing as it required full concentration to avoid slipping off and getting bogged.
"It was also bitterly cold in some areas, particularly in Fords Bridge where it dropped to at least -8°C overnight. Our swags and cars were covered in centimetres of frost the next morning and it looked like there was snow on the pub."
The toughest stretch was between Fords Bridge and Brewarrina, New South Wales where soft and slippery conditions continued for nearly three hours, he said.
"It was also not as 'remote' this year, although some 'towns' were no more than a service station or a pub. When we left Yunta, South Australia, we didn't go through another town or have phone service for three-and-a-half days until we reached Narrabri, New South Wales."
Team Piñata met several people along the route who had been treated by the RFDS including a young woman who had received emergency care for farm accidents three times.
"As well as the corporate sponsorship and public donations raised, several people on the route gave us donations as soon as they saw the car. The RFDS is a mighty service. Every two minutes someone, somewhere in Australia receives its help."
From its beginnings 86 years ago with a doctor, a pilot and a leased aircraft; the RFDS today includes 63 aircraft and 1,200 staff at 21 bases across Australia and treats or transports more than 750 patients a day.
Outback Trek stats:
    3,242km travelled
    670km travelled on private roads
    72 cars and 285 participants
    Longest day: 520km from Packsaddle to Fords Bridge, New South Wales
    Shortest day: 270km from Stanthorpe, Queensland to Byron Bay, New South Wales
    $1.3 million raised
    $24.5 million raised in 26 years