Pacific Island workforce recruited
06/12/2017
Piñata Farms is among Australia's approved agricultural industry employers recruiting seasonal workers from the Pacific Islands under the Federal Government's Seasonal Worker Programme (SWP).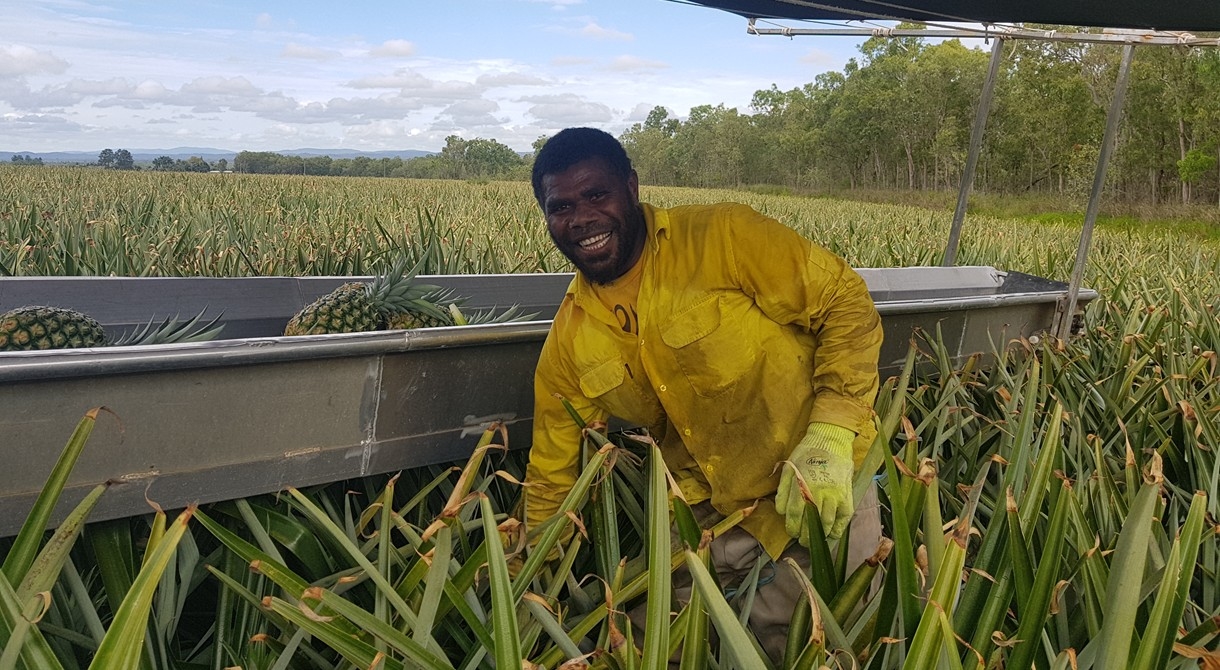 North Queensland operations manager, Stephen Scurr, said 18 workers from Vanuatu were currently working at Piñata Farms' mango and pineapple farms in the Northern Territory and North Queensland and he hoped that would increase to 50 in the next two years.
The workers had been recruited from Vanuatu - one of nine participating Pacific Island countries - due to Piñata Farms managing a sandalwood and lime plantation there. The Vanuatu operation employs 25 Vanuatuans, many of whom have worked on Piñata's farms in Australia through the SWP, he said.
Ten people were recruited for the Honey Gold mango harvest in the Northern Territory while another eight were employed at the Mareeba pineapple farm, he said.
Under the scheme, employees are permitted to work in Australia for six months at a time and to return for consecutive seasons after a six-month break.
"We have a few, loyal returning Australian workers but generally Australians are unwilling to do manual farm work. Without international seasonal workers, it would be virtually impossible to manage harvesting. They are absolutely critical to the survival of Australia's horticultural industry," Mr Scurr said.
"The scheme is a win-win for us and our Pacific Island workers. There's no need for us to source and train a new workforce each year, we are able to access workers who are happy to be here and the wages they earn in six months are equivalent to what they'd earn in three or four years at home.
"Unlike other international seasonal workers who work to fund their way around Australia, our Pacific Island workers are older people ranging from their mid-30s to their mid-50s - usually with families to support - who send their money home to directly contribute to their communities.
"We also get a great bunch of people who are keen and happy to work and are a pleasure to work with. We're just as excited when they come back as they are."
Mr Scurr said Piñata Farms became involved in the scheme after his brother, managing director Gavin, saw first-hand the scale of devastation caused by Cyclone Pam when it struck Vanuatu in early 2016.
"We thought the best we could do to help the region rebuild was to provide work at our farms. We now employ a labour provider to source and provide staff and manage their clearance to work here."
Mr Scurr said an ongoing challenge was to provide suitable short-term accommodation.
Plan to increase intake to 50 in two years
"Our goal is to have 50 people working in the Northern Territory by next year or the year after. However, finding accommodation for 50 people for six weeks of the year is a challenge. We're able to provide accommodation and transport for the current intake and we're talking to hostel providers in Darwin as our intake increases in the future."
The SWP assists Australian employers in the agriculture sector nationwide, accommodation sector (in selected locations) and tourism sector (the Northern Australia tourism pilot) that are unable to find enough Australian labour by providing access to workers from Pacific Island countries and Timor-Leste.
The programme contributes to the economic development of eligible Pacific Island countries and Timor-Leste by providing access to low and unskilled work opportunities in Australia. It is an initiative of the Federal Department of Employment.
Participating countries are Vanuatu, Fiji, Nauru, Samoa, Tuvalu, Kirabati, Papua New Guinea, Solomon Islands, Tonga and Timor-Leste.
Pineapple promotion aids RFDS
A Piñata Farms' pineapple promotion in aid of the Royal Flying Doctor Service (Queensland section) (RFDS) held at selected Woolworths stores during October is set to run again next May.
Piñata Farms donated 10 cents to the RFDS in Queensland for every Piñata pineapple sold at 245 Woolworths stores in Queensland and northern New South Wales between October 11-31. The promotion raised approximately $4,000.
Combined with a $2 wall token campaign which ran at the same time, shoppers helped raise more than $300,000 for the RFDS' life-saving work in rural and remote Australia.
A similar promotion is set for next May in the lead-up to Piñata Farms' annual participation in the Outback Car Trek in June. It will be the fifth trek for the Piñata team.