Producers in fifth Outback Car Trek
28/05/2018
Queensland-based fruit producers Gavin and Stephen Scurr of Piñata Farms will enter their fifth Outback Car Trek in aid of the Royal Flying Doctor Service (RFDS) next week.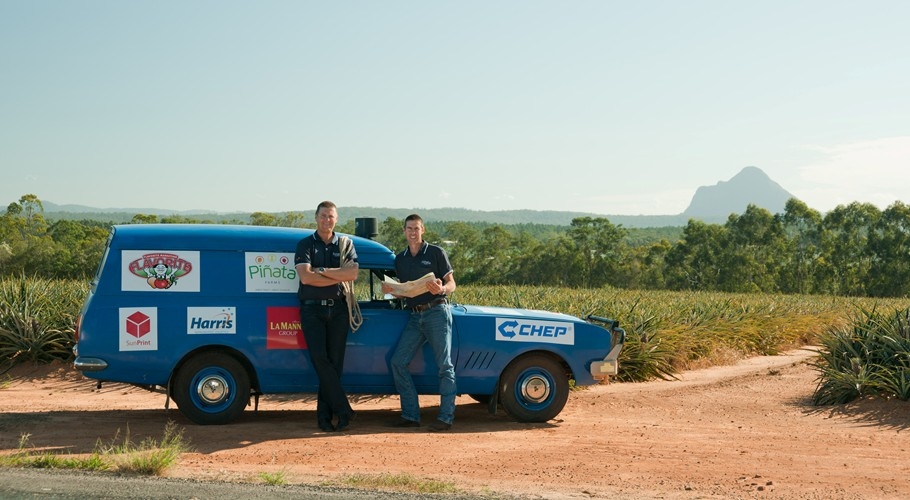 The Scurrs aim to raise $20,000 comprising corporate and public donations to benefit the RFDS as it celebrates its 90th anniversary.
Piñata Farms has raised more than $60,000 for the RFDS since 2014, through trek participation and in-store promotions of iconic Piñata pineapples.
Philanthropists from all around Australia will take part in the 29th annual trek which, this year, will see participants cover more than 3,500 kilometres from Tamworth, New South Wales to Airlie Beach, Queensland, from June 3-9.
The brothers will once again drive their modified trek vehicle, a 1971 Holden panel van, known as Roy the HG, travelling some of the nation's most challenging roads to highlight the life-saving work of the RFDS in regional and remote communities. For the first time, their wives, Julie and Chris will accompany them in a support vehicle.
The trek is an event for older two-wheel-drive cars which are specially prepared to cope with remote dirt road driving. Trek participants will travel through some of New South Wales' and Queensland's most sparsely populated and remote country, including little-used side roads and tracks.
Managing director Gavin Scurr is based at Wamuran on the Sunshine Coast while North Queensland operations manager, Stephen Scurr is based at Mareeba, North Queensland.
"The RFDS is Australia's most reputable charity with 100 per cent of funds raised contributing directly to its work. We congratulate the RFDS on a remarkable 90 years and we're proud to continue supporting a true Australian treasure," Gavin Scurr said.
Founded by the Reverend John Flynn in 1928, the RFDS is one of the largest and most comprehensive aeromedical organisations in the world, providing extensive primary health care and 24-hour emergency service to people over an area of 7.69 million square kilometres. In 2016/2017, 36,933 Australians were flown by the RFDS' medical, nursing and aviator teams.
Help Piñata Farms reach its trek target. Donate here>
Pineapple promotion aids RFDS
Piñata Farms will partner with the RFDS and Woolworths in October to offer shoppers the chance to buy a Piñata pineapple and support the work of the RFDS (Queensland section).
The promotion will be held at more than 200 selected Woolworths stores in Queensland and northern New South Wales. Piñata Farms will donate 10 cents to the RFDS for every Piñata pineapple sold during the promotional period.