Latest news from Piñata Farms
07/03/2016
Piñata Farms expands strawberry polytunnel production in two key growing regions, increases Honey Gold mango plantings and launches a new corporate website.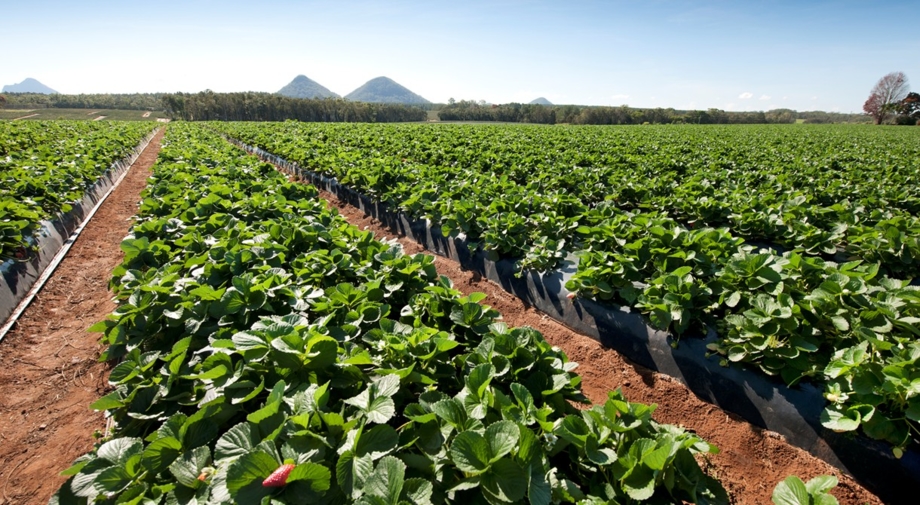 Polytunnel strawberry production expands
Piñata Farms will trial growing eight hectares of its winter strawberry crop under polytunnels at its Wamuran home farm this coming season.
This follows early results of trials at Stanthorpe on Queensland's Granite Belt during summer where fruit growing under 1.6 hectares of polytunnels escaped damage from three hail storms.
Piñata Fams' managing director, Gavin Scurr, said the polytunnels erected last winter had effectively protected summer fruit from rain and hail.
"We're continuing to adapt growing techniques to achieve the best results from fruit grown in a protected environment. Our focus is on improving marketable yield," he said.
Piñata Farms will erect the polytunnels at Wamuran in March as well as another eight hectares at Stanthorpe in May.
The Wamuran strawberry operation has also expanded by an additional 16 hectares in readiness for the winter crop. A third dam with a 60 megalitre capacity has also been built.
Mr Scurr said, other than initially protecting fruit from weather events, it was too early to analyse the polytunnels' return on investment. Supplied by Haygrove Tunnels in the United Kingdom, the polytunnels will be installed by Piñata Farms.
Piñata Farms produces strawberries year 'round on approximately 48 hectares at Wamuran (May-September) and 10 hectares at Stanthorpe (September-May).
Honey Gold mango plantings expand
Exclusive producer of specialty Honey Gold mangoes, Piñata Farms, is increasing plantings at its farms in northern Australia as it strives for a 10 per cent mango market share by 2018.
Managing director Gavin Scurr said an additional 17,000 trees would be planted at the Darwin farm while 3,000 trees would be planted at Katherine, both in the Northern Territory, in autumn.
Third-party growers in North Queensland's Mareeba district have also increased plantings by 4,000 trees since late 2015.
Piñata Farms and some 40 third-party growers have some 500 hectares of trees under cultivation in five states for production from November to March.
Gavin Scurr at Northern Australia Food Futures 2016
Piñata Farms managing director, Gavin Scurr, will be among the keynote speakers at the Northern Australia Food Futures Conference 2016 in Darwin from April 11-13.
Mr Scurr will join agricultural industry leaders and policy decision makers at the conference to be held at the Darwin Convention Centre.
He will share wisdoms and insights gained from more than 20 years of producing fruit in northern Australia including Mareeba Gold pineapples and Honey Gold mangoes in Far North Queensland and the Northern Territory.
New website for Piñata Farms
Piñata Farms has launched a new corporate website. Features include a history timeline of the Piñata Farms family business, as well as farm, team and product profiles.
A Chatter section includes behind-the-scenes information, recipes, tips, media releases and in-season news.
An interactive map demonstrates the scale of Piñata Farms' operations while a media download section provides high res images and files for industry and media contacts.