Strong season set for Honey Golds
10/11/2017
The annual Honey Gold mango harvest has begun in the Northern Territory, with exclusive producer Piñata Farms promising another strong season for the premium line.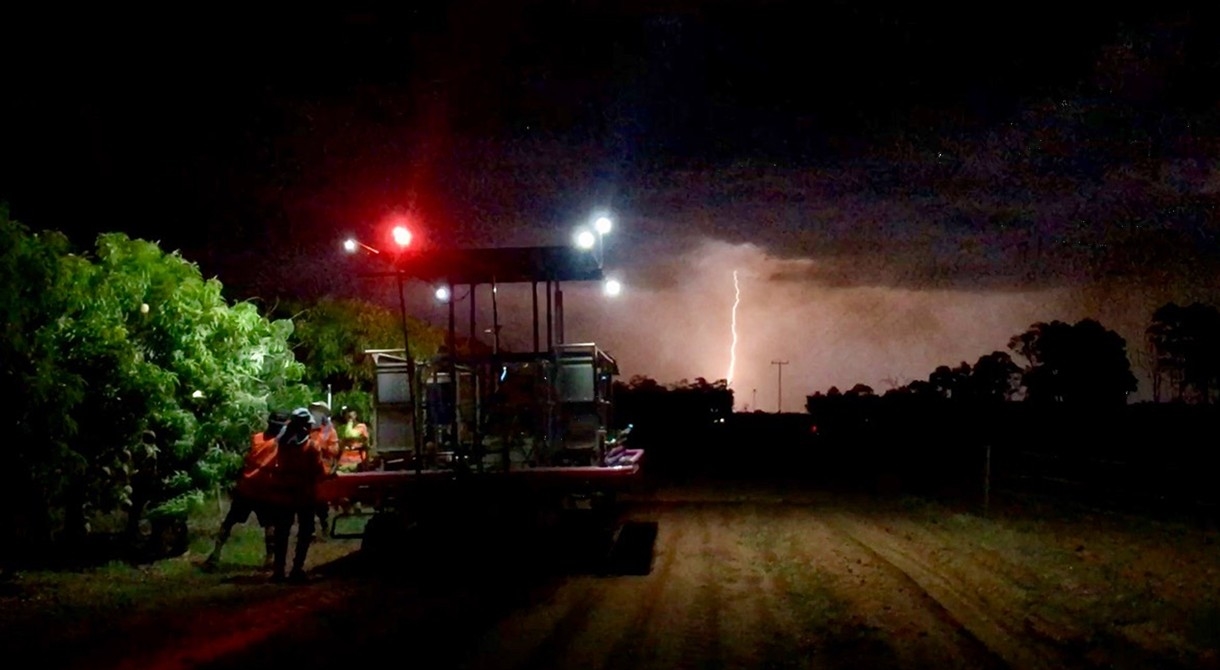 Piñata Farms' managing director, Gavin Scurr, said night picking had begun at Katherine, with the first ripe fruit to arrive on supermarket shelves by November 24.
"Overall, we're confident of another good mango season with a slight increase in volume expected on last season," Mr Scurr said.
This was despite the Northern Territory experiencing its hottest July minimum temperatures on record which caused 20-30 per cent of trees to stop flowering, he said.
"Winter night-time temperatures in the Northern Territory are generally around 10 degrees Celsius but they didn't get much below 15 or 16 this year. However, this had minimal impact on the Territory crop.
"The North Queensland growing regions are also on track to produce a solid crop from December. Crop timing is normal in all areas except Bowen which will be a week later than usual due to the effects of Cyclone Debbie.
However, Mr Scurr said the Wamuran, south-east Queensland crop had been impacted by recent rainfall.
"We've lost about two thirds of the crop due to 10 days of rain in October. It's always been a challenge to grow mangoes outside the tropics and, right up until the rain came, the crop was looking great. We'll still produce a crop in February but it won't be what we hoped for."
He said Piñata Farms would reassess the viability of producing Honey Gold mangoes at Wamuran following several successive disappointing seasons.
Mr Scurr said it was too early to predict this year's crop outcome in New South Wales, Victoria and Western Australia.
Piñata Farms and 37 contracted growers produce Honey Gold mangoes in the Northern Territory, Queensland, New South Wales, Victoria and Western Australia for national distribution between November and March. Some 170,000 trees are under cultivation with additional plantings to reach production progressively between 2020 and 2024.
About two per cent of the crop would be exported to New Zealand, the United States and Asia, he said.
The mid-season Honey Gold variety, which was first sent to market in 2009, is a consistent performer which holds fourth spot in the Australian mango market behind Kensington Pride, Calypso and R2E2.
Honey Gold mangoes are available at leading supermarkets nationally.
Specialty raspberries planted for new year harvest
Piñata Farms has begun planting its first specialty raspberries at Stanthorpe, southern Queensland for joint venture company BerryWorld Australia.
The raspberry crop follows the winter launch of BerryWorld Australia's first specialty strawberry crop. Under the joint venture terms, Piñata Farms has the exclusive rights to grow and market selected proprietary varieties for Australian consumption.
BerryWorld Australia is a joint venture between global berry breeder and marketer BerryWorld Group and Piñata Farms.
Mr Scurr said four raspberry varieties bred in Europe were under trial at Stanthorpe, with one set for commercialisation in early 2018.
"With raspberries, it takes about 100 days from planting to harvest. We're expecting to harvest the commercial variety in late January," he said.
"We've staggered planting to stagger the harvest. While the first crop will be produced during the traditional Australian raspberry season, the second will be between May and June - outside the traditional season."
BerryWorld raspberries are produced under polytunnels over one hectare at the Granite Belt farm which also produces the BerryWorld-branded strawberry crop during summer.
BerryWorld raspberries will be available at selected Woolworths stores in Queensland.
Mr Scurr said BerryWorld Australia would contract third party growers to produce raspberries under licence in the future as it did with Honey Gold mangoes. However, there were no contracts in place for the short term.
Blackberries will round out the berry trifecta for BerryWorld Australia, with the first commercial crop expected in 2020.
Finance manager appointed
Piñata Farms has appointed Chris Jones as its finance manager.
Mr Jones' extensive experience includes financial performance management, business planning, analysis and reporting and growth and strategy development.
He has previously held senior positions in various fast moving and family owned and operated businesses. They include chief financial officer at Australian owned and operated private company, Hawkins Group, group finance manager at APN Australian Regional Media and audit manager at WHK Rutherfords.
"With a fast moving fresh produce business such as Piñata Farms, there can be a considerable length of time between making decisions for growth and realising that growth with the risk and uncertainty of climatic conditions and market fluctuations in between. It's my responsibility to assist Piñata's business managers to make informed decisions up to 10 years in advance," Mr Jones said.
"Accurately forecasting volumes and the price of fruit amid unpredictable conditions at any time throughout a fruit season is a key challenge for any fresh produce grower. It's exciting and rewarding at the same time."
Mr Jones is based at Piñata Farms' Wamuran headquarters.