Piñata's July bulletin
29/07/2016
Queensland-based strawberry producer Piñata Farms is on a quest to add the world's best-tasting strawberries to its varietal line-up following expansion of its operations at Wamuran and Stanthorpe.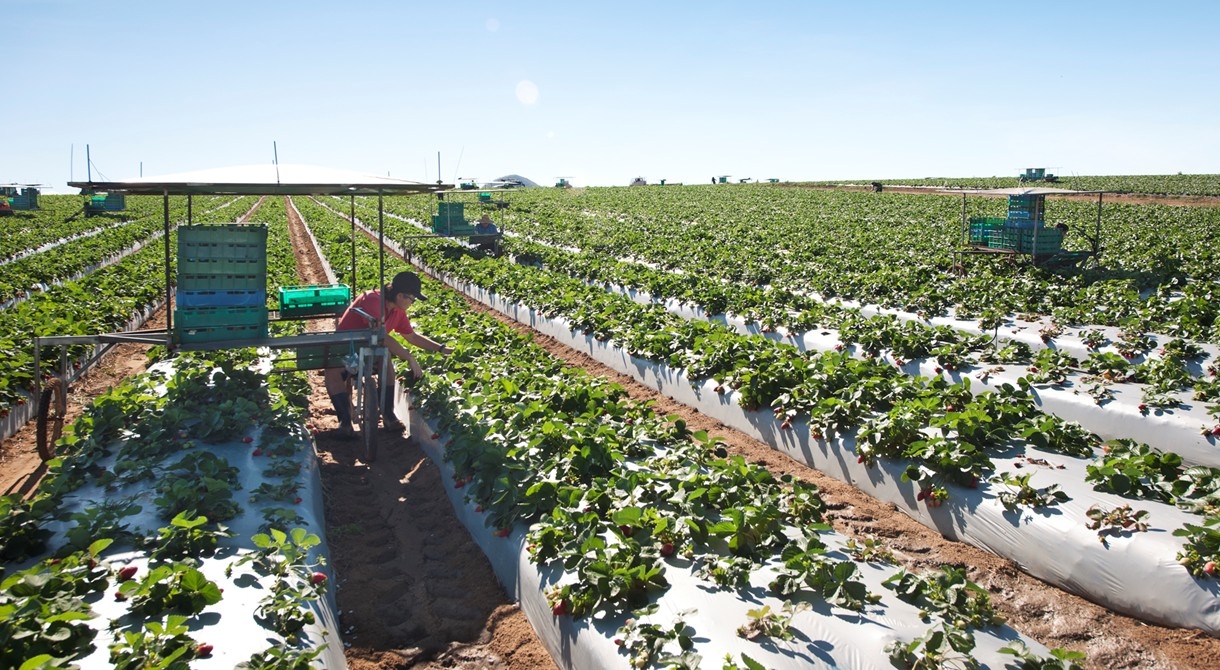 Managing director Gavin Scurr is currently in Europe inspecting the latest varieties grown by leading producers in the United Kingdom and Spain.
"Flavour is the number one attribute we're looking for, followed by shape and size. Yield is also important but taste is everything," Mr Scurr said.
"There will be more than 1,000 new varieties to look at and taste. We hope to select a couple of the best to bring to Australia for commercial production."
Piñata Farms trials up to six new varieties each year. It produces winter strawberries at Wamuran on the Sunshine Coast and summer strawberries at Stanthorpe on the Granite Belt. Varieties currently grown include Festival, Fortuna, Red Rhapsody, Aussie Gem and Albion.
Piñata Farms is now growing substrate strawberries in polytunnels at Wamuran. The winter harvest of field-grown fruit is in full swing with substrate harvesting set to begin in August. The Wamuran operation spans some 45 hectares and includes field, tunnel and substrate methods.
The Stanthorpe farm spans 20 hectares, 80 per cent of which is produced in polytunnels. Summer harvesting is set to begin in September.
Podcast series launched
Piñata Farms has launched a podcast series featuring the voices of employees who bring paddock-to-plate stories to life.
General manager, Roger Turner, said the podcast interviews gave listeners the chance to "walk in the footsteps" of farm workers throughout the supply chain.
"People see images of our farms and the people who work on them via our social media pages. Now they can hear what farming life at Piñata Farms is like through the voices of those who work here, in their own words.
"They'll hear what it's like to walk through a prickly pineapple patch, pick strawberries, sit inside a truck or tractor or pack a punnet," he said.
Ten podcasts will be produced initially with a new podcast aired on the Piñata Farms' website fortnightly. Three, featuring South Queensland pineapple production manager Tony French talking about a typical picking day, South Queensland operations manager Joe Schwarer discussing packing shed operations and South Queensland pineapple farm manager, Adrian Dipple telling tales about pineapple farming, are now live.
Company accountant appointed
Piñata Farms has appointed Melissa Brook as its company accountant.
Ms Brook's responsibilities include the timely delivery of monthly management and board reports, ensuring the business complies with accounting standards, annual reconciliations, budget forecasting and cash flow management.
Prior to joining Piñata Farms, Ms Brook worked extensively in the mining, construction, resources and energy and oil and gas sectors over some 15 years. Her new role is her first foray into the fast moving consumable goods sector.
"The importance of the date that fruit is harvested and how the systems capture that drives the revenue and costs associated with getting produce to market. There's a much shorter period of time for revenue recognition than other sectors I have worked in," Ms Brook said.
Ms Brook has a Master of Business (Accounting) and is a member of Certified Practising Accountants. She is based at the Wamuran headquarters.
Scurr brothers complete Outback Car Trek
Brothers Gavin and Stephen Scurr raised more than $16,500 for the Royal Flying Doctor Service (RFDS) after completing the 3,500-kilometre Outback Car Trek in June.
It was the third trek Piñata Farms has participated in. The trek requires participants to drive older model two wheel drive vehicles over some of the toughest roads in Australia. This year's route was from Narrabri, New South Wales to Port Douglas, Queensland. The Scurrs drove a 1971 Holden panel van known as Roy the HG.
"Other than some roads which we couldn't travel on because of rain before the trek, we had a trouble-free run," North Queensland operations manager, Stephen Scurr said.
"We were privileged to meet some wonderful people, see more of our beautiful country and raise funds for cause that we're passionate about."
On average, the RFDS assists one person every two minutes in regional and remote communities.