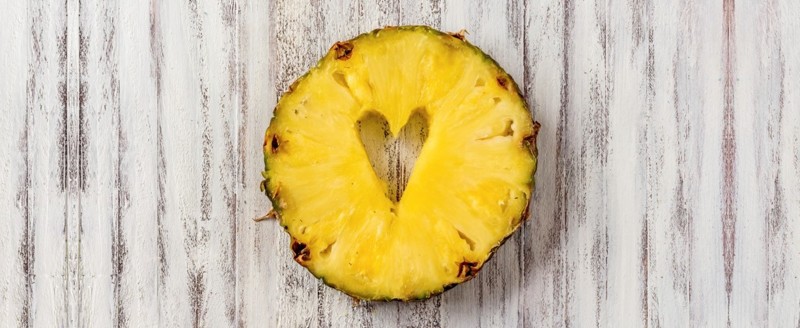 Got a question about our products, who we are or how we farm? We answer your most frequently asked questions. If you have one we haven't covered, email us at info@pinata.com.au or private message us on Facebook.
Pineapples
Why do you sell pineapples without tops? +
As pineapples grow by cuttings, we cut the crowns off at harvest and replant to grow the next generation. Harvested fruit is sent to market without their tops.
My pineapple has green skin – is it ripe? +
Pineapples are non-climacteric which means they do not ripen after picking. We pick pineapples when ripe so even if the shell is green (as it can be at certain times of year) the fruit is ready to eat. No matter what the skin colour, a ripe pineapple should have golden flesh.
How do I know you grew my pineapple? +
Look for the distinctive white, yellow and green Piñata pineapple label at supermarkets and independent retail outlets.
How are your pineapples planted? +
All our Piñata pineapples begin as cuttings. They are planted by hand in rows directly into the soil as the crop workers move along the rows in customised planting aids. It's a labour-intensive job that requires skill and concentration. On average during planting, we plant about 40,000 Piñata pineapples a day.
How are your pineapples picked? +
Piñata pineapples are harvested by hand after being cut off the plant and are loaded onto a boom conveyor in the field, which places fruit into a bin. The bins are then transported to our packing shed for despatch. We harvest pineapples all year 'round at our Wamuran farm – rain, hail or shine – and seasonally at other locations.
Strawberries
What chemicals do you use? +
All strawberries are particularly susceptible to pests and diseases because they grow low to the ground and have a soft exterior. To enable us to use as few chemicals as possible during production, we regularly monitor crops and use pesticides well below the legal limits available to us.
Should I wash my Piñata strawberries? +
Moisture can affect the quality of strawberries so we do not wash them once they have been picked. We also minimise the number of times they are handled – from paddock to plate – so they are fresh and pristine when you buy them. We suggest you give your Piñata strawberries a light rinse and pat with a paper towel before you eat them.
What packs do your strawberries come in? +
Piñata strawberries are available in 250g and 350g heat-sealed punnets and 500g clamshell punnets. BerryWorld strawberries are available in a 350g heat-sealed punnet.
Can I pick my own Piñata strawberries? +
No. As Piñata Farms is a large-scale commercial strawberry producer, our strawberries are grown to order, harvested by carefully trained picking crews under supervision and sent directly to our supermarket and retail customers. They are widely available in stores throughout Queensland, New South Wales, Victoria, the Australian Capital Territory and Tasmania.
Where do you get your picking trolleys? +
We make picking trolleys to our own specifications at Wamuran and Stanthorpe. Each picker has their own trolley that fits neatly inside the rows, providing easy picking and plenty of space for stacking just-picked strawberries.
Why are your strawberries only available on the Eastern Seaboard? +
Currently interstate laws outside Queensland, New South Wales and Victoria require strawberries to be fumigated which we don't do. We are always looking for opportunities to grow in other regions.
Honey Gold Mangoes
Why are Honey Gold mangoes so large? +
Honey Gold mangoes developed naturally as large, small-seeded fruit. They are among the largest mangoes available in Australia, averaging 500-600g. Their size is one of the attributes that sets them apart from other mangoes. Their small seed also means there is more delicious flesh to enjoy and less waste – great value!
What colour is a ripe Honey Gold mango? +
Ripe and ready-to-eat Honey Gold mangoes have a consistent all-over orange skin. We pick Honey Gold mangoes when they are fully green with a soft, orange blush and ripen them over three days. When they reach their final orange colour, they are ready for sale.
Why are Honey Gold mangoes exclusive? +
In 2002, Piñata Farms bought the plant breeders' rights to the variety from the farmer who originally bred the first Honey Gold mango near Rockhampton in Central Queensland. That means only Pinata Farms and our contracted growers around Australia are licensed to produce them.
Is Honey Gold mango a hybrid mango variety? +
Yes. Honey Gold mangoes were first bred by chance in Central Queensland's Rockhampton region in 1991 and are the natural result of a Kensington Pride off-type which was pollinated by another unknown variety growing nearby. The original Honey Gold mango tree still continues to bear fruit.
What does a Honey Gold mango taste like? +
Honey Gold mangoes have a super-sweet, bold, intense flavour which some people describe as "honey on the tongue". They are juicy, yet fibre-free and have been rated in blind tastings as superior to all other mangoes. Their natural honey flavour means they pair well with citrus, seafood and white meats.
Raspberries
When are raspberries ripe? +
Ripe raspberries are a classic raspberry all-over red which are plump and firm to touch. When ripe, they separate easily from the plant, simply sliding off the stem.
How are raspberries picked? +
Because they are small and fragile, extreme care is taken when hand-picking raspberries. Ripe fruit is gently plucked off the stem and placed directly into punnets to minimise handling. Raspberries ripen at different times so picking from one plant occurs over several days or weeks.
What are the bubbly bits on raspberries? +
The bubbly bits clustered around a single raspberry are called drupelets, held together by a network of fine, small hairs. An individual raspberry weighs about four grams on average and has between 75 and 120 drupelets.
Why are raspberries hollow? +
Each raspberry separates from the core when picked, leaving a hollow inside the fruit. If the stem also comes away when picked, the fruit is not ripe.
Should I wash my raspberries? +
Delicate raspberries should be washed with care so they don't go soft. A light spray and gentle pat with paper towel is all they need just before you eat them.
Farm
What food traceability systems are in place? +
Food Standards Australia and New Zealand requires us to be able to trace every piece of fruit. This helps us identify and correct any glitches in the supply chain. All rows and trees are numbered, so we can tell where each piece came from and who picked or packed it. Visit our Farm Safety page for more.
What happens to the fruit you reject? +
Some of our second grade fruit, which is perfect in quality but which might be slightly blemished or misshapen, is sent to our value-add customers for cut or juiced fruit products. We also supply second grade fruit to various community organisations and associations.  
Can I buy fruit at your farms or markets? +
No. All the produce grown at our various farms around Australia – Piñata pineapples, Piñata strawberries and Honey Gold mangoes – is grown on a commercial scale specifically for our supermarket and independent retail customers around Australia.
Where can I buy your produce? +
Piñata pineapples are available nationally all year. Look for Piñata strawberries in Queensland, New South Wales, Victoria, the Australian Capital Territory and Tasmania all year. Honey Gold mangoes are available nationally between October and March. All lines are available at leading and independent stores. 
How do I get a job at Piñata Farms? +
We have various jobs available including picking and packing positions at various locations during peak production periods. If you want to work for us, please register your interesting by filling in the form on our Careers page.
What is your policy on community sponsorship? +
We have ties to the communities in our growing regions and we often sponsor local events or assist worthy community-based organisations. If you have an event you would like us to consider sponsoring or if your organisation might benefit from our support, please email info@pinata.com.au
Can Piñata people speak at events? +
We love to share our expertise and offer commentary. People who may be considered are managing director Gavin Scurr, also a former chairman of the Australian Mango Industry Association, and key account manager, Rebecca Scurr. To request a speaker, please email info@pinata.com.au
Does Piñata Farms cater for school or group visits? +
Yes. We regularly host visits by school and industry groups, media, chef and customer delegations. To request a farm tour, please email info@pinata.com.au