Substrate strawberry harvest
09/09/2016
Queensland strawberry producer, Piñata Farms, is picking its first substrate-grown strawberries at Wamuran on the Sunshine Coast after venturing into substrate production over winter.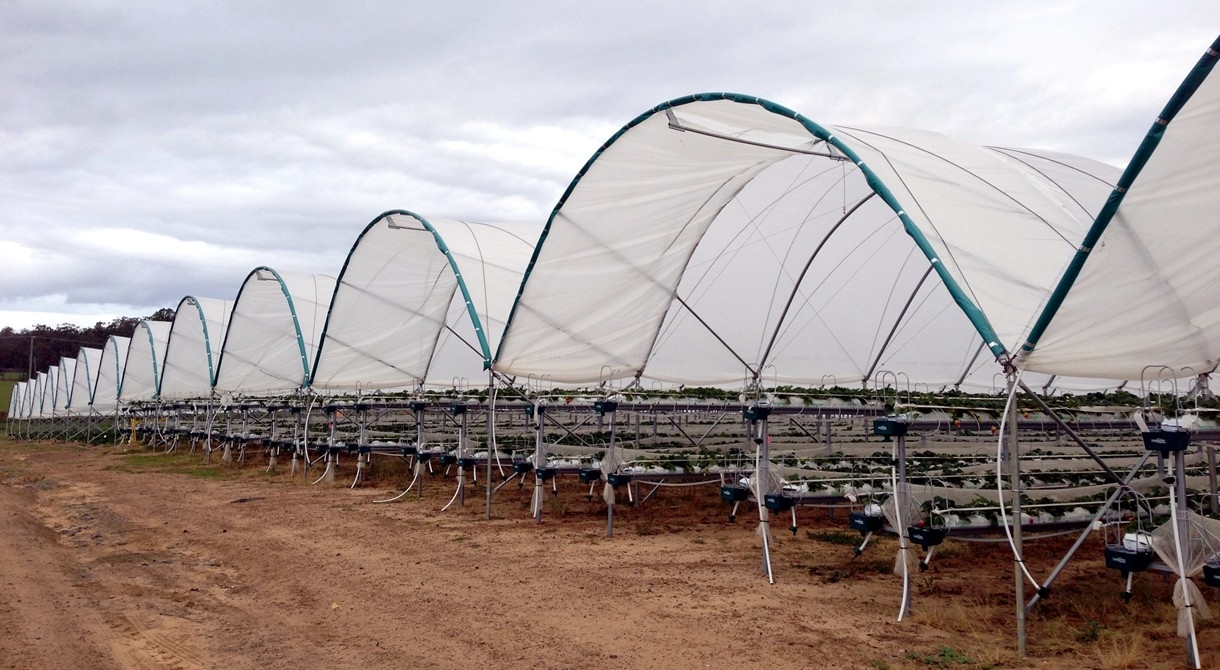 Managing director Gavin Scurr said the quality of fruit produced using the substrate method had so far exceeded expectations.
"The eating quality is superb and the berries have a vibrant colour with a natural sheen. Because they're growing under polytunnels, they've stayed warm throughout winter and that's resulted in brighter, cleaner fruit," Mr Scurr said.
Piñata Farms grows winter strawberries at Wamuran and summer strawberries at Stanthorpe, southern Queensland, for year 'round availability. Fruit is produced both in the open field and under polytunnels. Substrate strawberries grow in coconut coir on tiered shelves.
Mr Scurr said the Albion variety, which Piñata Farms had produced for some time, was the chief variety being grown in substrate. US-developed varieties, Portola and San Andreas were being trialled.
Substrate offers hope after tough season
"As the substrate harvest progresses, all indications are for a positive outcome. We're hoping to keep producing substrate fruit at Wamuran for several months yet.
"By then, harvesting will have begun at Stanthorpe, leading to peak production in November. There should be a plentiful supply of Piñata strawberries right through until Christmas."
Mr Scurr said he expected the field-grown harvest at Wamuran to end by early October, depending on the weather.
"Once the temperature reaches 30 degrees, it starts to get challenging as it's too hot for the fruit."
Mr Scurr said it had been a tough season for Queensland strawberry producers with yield down about 20 per cent on a per plant basis across the industry.
"That's due to an unseasonally warm autumn which delayed planting for many growers and resulted in plants being less robust than usual," he said.
However, early substrate results at Wamuran had buoyed hopes for a good start to summer production.
"Wamuran's climate means we can produce field-grown and substrate strawberries progressively from now on, with the aim being to extend the season as late as possible to fill a supply window in October and November.
"At Stanthorpe, both field and polytunnel crops produce at the same time, so we'll aim to produce fruit earlier there, so there's no drop in the total yield between the farms."
New varieties promise to extend season
Piñata Farms has selected three new European-bred varieties for commercial trials following Mr Scurr's recent visit to some of Europe's best strawberry breeders. Depending on the outcome of trials, they will be commercially produced in 2020.
We've selected two winter varieties to grow at Wamuran. Both have a better yield while maintaining flavour. The variety we've selected for summer production has been specifically chosen to fill a supply window in the April-May period."
Mr Scurr said varietal selection was key in Piñata Farms' quest to produce strawberries outside the traditional Queensland strawberry season.
"The industry would produce three times as much fruit in September than in October. We're trying to plug gaps at both ends of the supply period by looking at varieties and matching them to growing methods and growing regions."
Piñata strawberries are available at leading supermarkets in Queensland, New South Wales and Victoria.
Piñata Farms podcast
Learn more about strawberry production at Piñata Farms, Wamuran. Click here to explore Wamuran's strawberry fields with farm manager, Jason Dipple.