News from Piñata Farms
24/05/2017
Australia's exclusive producer of specialty Honey Gold mangoes, Piñata Farms, has named North Queensland producer, Blushing Acres, as the 2017 Honey Gold Grower of the Year.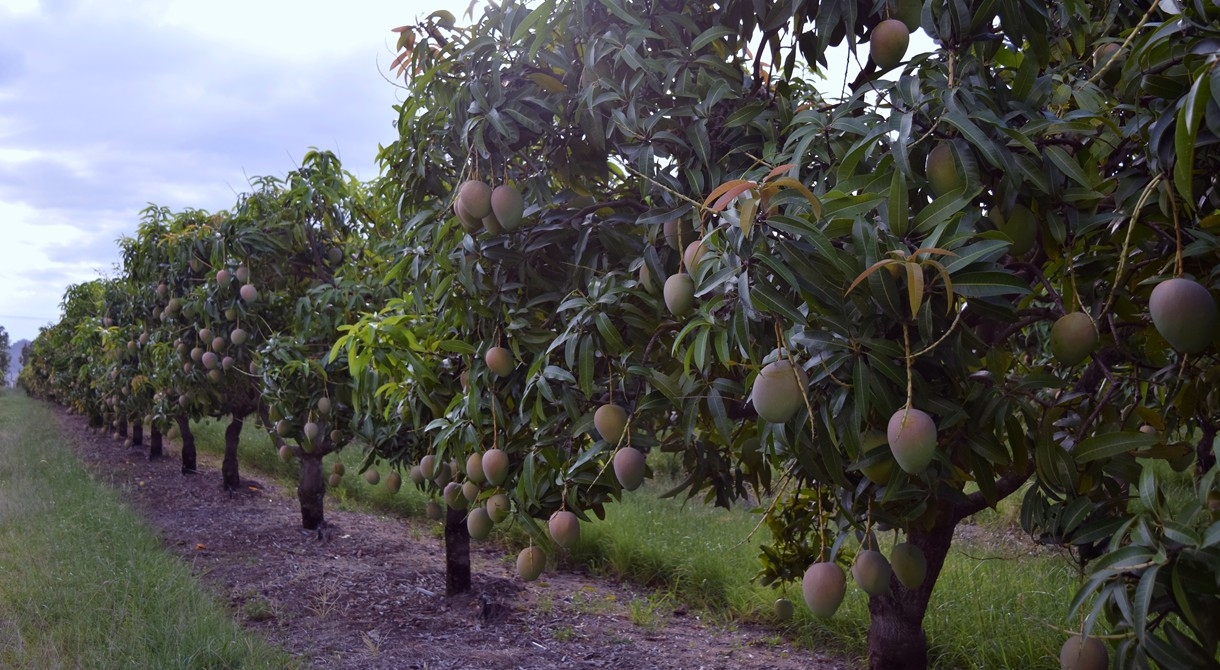 The award was presented at the 12th annual Honey Gold Mango Congress held at Airlie Beach, North Queensland, earlier this month.
Owned and operated by Sam and Kylie Collins and family, Blushing Acres, of Mareeba, began growing Honey Gold mangoes under licence to Piñata Farms in 2002. The Collins's had no prior experience in mango production before buying their farm, 45 kilometres west of Mareeba, as a going concern in 2002. Within a week of settling their licence agreement, they were picking their first Honey Gold mangoes.
Blushing Acres was among 36 contracted third party growers under consideration for the award. They were recognised for their fruit quality, growing practices, communication and commitment to long-term plans for the specialty line.
Mr Collins said the award acknowledged their hard work and was a tremendous surprise.
Win attributed to family commitment
The family, including three children, relocated to North Queensland from Papua New Guinea where they had operated a mechanical workshop business for several years.
"When we bought the property, we had several varieties of mangoes and avocados on it. We eventually replaced the other mangoes and now grow only Honey Gold and Calypso varieties, as well as avocados," Mr Collins said.
Blushing Acres has 1,500 Honey Gold trees in production and another 5,400 trees under cultivation and set to reach full production in 2020. Its mangoes are harvested between the end of December and early January.
"All the stars aligned last season. We had a good crop, we forcasted our crop, picked when we forecasted we would and packed to Piñata Farms' specifications and requirements. Our family worked together as a team to do the best possible job that we could," he said.
Mr Collins said he believed the Mareeba climate was "the best in Australia" for growing mangoes due to its nine-month dry spell from March to December.
He also believed growing grass in the inter-rows, then using it to mulch under the trees, helped retain moisture during the dry period.
Blushing Acres has one full-time employee, up to 35 seasonal workers during harvest and the support of their three children, Harry, 17, Jessica, 15 and Will, 13 when home from boarding school.
"Our kids are really involved in the business and over the moon with the award. Our family has aspired to win this since Piñata Farms introduced the awards. We never thought we would receive the honour and would like to thank all the other growers in the region for helping us achieve this - we all work together," he said.
All mangoes picked and packed on site at Blushing Acres are transported to Piñata Farms at Wamuran, south-east Queensland for ripening and distribution.
Piñata Farms managing director, Gavin Scurr, commended Blushing Acres and all third party growers for their efforts following a solid 2016-2017 season.
"The Collins family is typical of our passionate and hard-working growers who are committed to the brand and to achieving top results for Honey Gold mangoes," he said.
Thirty-six contracted third party growers produce Honey Gold mangoes under licence to Piñata Farms in five states from November to March.
Gavin Scurr receives mango industry award
The Australian Mango Industry Association (AMIA) recognised Piñata Farms' managing director, Gavin Scurr, with an Industry Development Award for his significant contribution to the Australian mango industry at the 11th annual Australian Mango Conference, in Bowen in early May.
Mr Scurr was chairman of AMIA from 2011 to 2016 and was a director on the board prior to that, from 2007. He remains on the board.
AMIA chief executive officer, Robert Gray, said the award acknowledged Mr Scurr's strong leadership, transparency and inclusiveness as chairman.
"Organisational governance became a major focus under Gavin's leadership and our organisation, which started in 2002, was really taken to the next level," Mr Gray said.
"Gavin's leadership also enabled us to increase resources such as expanding the management team to deliver better outcomes to the industry which turns over $250 million annually and represents some 800 growers," he said.
As a grower, Mr Scurr identified Honey Gold mangoes as a variety to  commercialise, bought the breeding rights and sent the first fruit to market in 2009. Honey Gold mangoes are now ranked fourth among Australian mangoes and have approximately eight per cent of the market share.
Mr Scurr said he was honoured to receive the award and felt privileged to be part of such an exciting fresh produce industry.
Piñata Farms wins Flying Doctor Local Hero award
Piñata Farms has received a Local Hero award from the Royal Flying Doctor Service (RFDS) for its fundraising efforts in the Outback Car Trek over the past three years.
Managing director Gavin Scurr and his brother, North Queensland operations manager, Stephen Scurr, have raised more than $45,000 in aid of the RFDS since 2014. They aim to raise another $20,000 when they take part in this year's trek from June 4-10.
Stephen Scurr accepted the award at a celebration ceremony at the RFDS base at Brisbane Airport on May 19.
Piñata Farms was among nine winners selected from 80 nominees across Queensland and the winner of the Brisbane region. Nine morning teas were held across Queensland to mark the service's 89th birthday and announce the Local Hero recipients.
An RFDS spokeswoman said videos of the recipients' stories would go live on the RFDS website in June when the public was invited to vote for the overall Queensland Local Hero, announced at a gala dinner on July 29.
The Scurr brothers will join other philanthropists from all over Australia to travel 3,500 kilometres from Griffith to Port Macquarie, New South Wales, over some of the nation's roughest roads in June. They will drive their trek vehicle, Roy the HG, a 1971 Holden panel van.
The Scurrs became ardent supporters of the RFDS after one of their farm managers and his wife were assisted by the RFDS following a serious car accident in the Northern Territory.
"Gavin and Stephen have also contributed to the success of the Outback Car Trek by supplying participants with much-needed food and supplies when they were unable to make it to their scheduled pit stop due to prevailing conditions and road closures," the spokeswoman said.
Donations to Piñata Farms' fundraising efforts can be made on the Everyday Hero charity fundraising site. Donate here>