Producer sets pace for business growth
09/06/2017
Fruit producer Piñata Farms, is better equipped than ever to accelerate growth and explore new frontiers according to general manager, Roger Turner.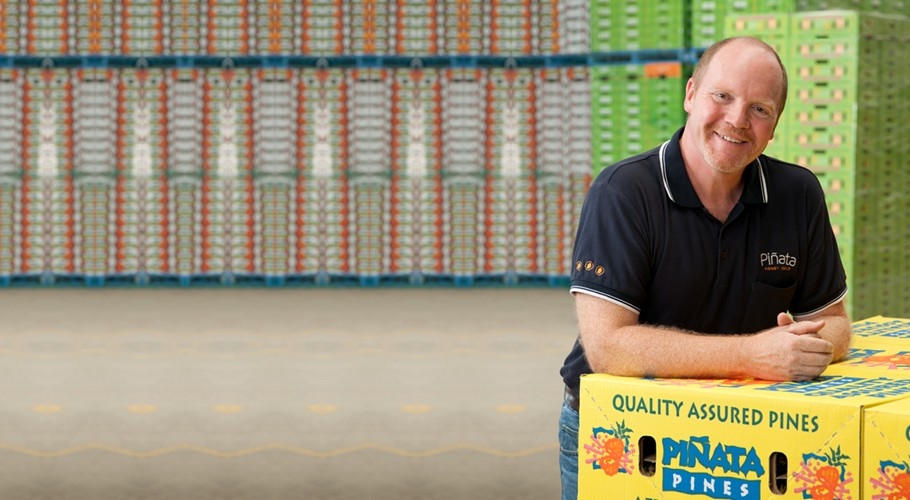 Piñata Farms is Australia's largest pineapple producer, a significant producer of strawberries and has the exclusive rights to grow specialty Honey Gold mangoes. The Sunshine Coast-based operation has some 1,010 hectares under cultivation nationally and produces more than 1.5 million trays of fruit annually. It employs about 70 full-time staff and up to 350 seasonal workers.
"We've continued to expand plantings in all lines, year on year, including mangoes and pineapples in the Northern Territory and strawberries in Queensland and we've projected to achieve a 10 per cent share of the Australian mango market by 2020," Mr Turner said.
"Piñata Farms is not a farming business to stand still. We're continuously looking at ways to improve productivity - whether it is varietal selection or new lines, on-farm practices or packhouse system upgrades."
Embracing change for success
Mr Turner said one of the most significant changes Piñata Farms had made was to implement a new user-friendly packhouse software system in late 2015.
"This has boosted packhouse productivity substantially, allowed us to reallocate people on the shop floor and, most importantly, improved stock control. While strawberries and pineapples are picked, packed and dispatched on the same day, mangoes are held for up to six days and ripened on site. It's critical that we can account for all stock at all times and now we can," he said.
Mr Turner, who has a background in manufacturing processes, said the challenges of operating a multiple-site horticultural operation with a fluctuating workforce and seasonal variables ranged from crop quality and quantities, to weather patterns, volatility of orders, workforce issues and managing customer expectations in an evolving consumer-driven landscape.
"Farming businesses need to make the workplace environment and processes involved in it as straight forward as possible so employees can do the best possible job they can to achieve the best possible results," Mr Turner said.
"Successful farming is about adopting new technologies, continually reviewing processes and seasonal outcomes and looking for more efficient ways to operate. Change is inevitable in this industry and can be enormously positive. You have to keep moving forward or you go backwards very quickly."
Removing bottlenecks from processes
"Part of the challenge is to divorce yourself from the type of business you are in, remove the emotion of growing crops and look at the processes themselves," he said.
"As with all manufacturing processes, bottlenecks arise along the supply chain. Effective management is about removing one bottleneck at a time, until they get smaller and eventually become insignificant. We can't control every step on the supply chain but we can control our steps."
Strong leadership is key
Mr Turner said a strong management structure in a family owned and operated business such as Piñata Farms, was imperative for success.
Managing director Gavin Scurr and his brother, North Queensland operations manager, Stephen Scurr, lead Piñata Farms, bolstered by a tier of department and farm managers.
"We have excellent people throughout the business who manage their own departments or farms. As experts in their own areas, they are encouraged to solve problems creatively or bring fresh ideas to the table. There's a depth of understanding that runs right throughout the business.
"It's also important to operate in a culture of inclusiveness where information is shared. People have to appreciate why things may have to be done differently. As long as the core processes remain the same, people adapt very quickly to change."
Brand recognition rewards effort
Mr Turner said consumer brand recognition was a challenge for all fresh produce businesses competing for attention against a backdrop of generically branded lines.
"Fresh produce suppliers put in an enormous effort to supply quality products that result in a good eating experience for the consumer. The reward for that effort is meeting your customers' expectations, achieving the best price you can and seeing consumers buy your products in ever-increasing numbers," Mr Turner said.
Tune into the Piñata podcast to hear Roger Turner discuss problem solving in horticulture. Listen here>