Piñata named Horticulture Farmer of the Year
27/02/2019
Piñata Farms has won The Weekly Times Coles 2018 Horticulture Farmer of the Year award.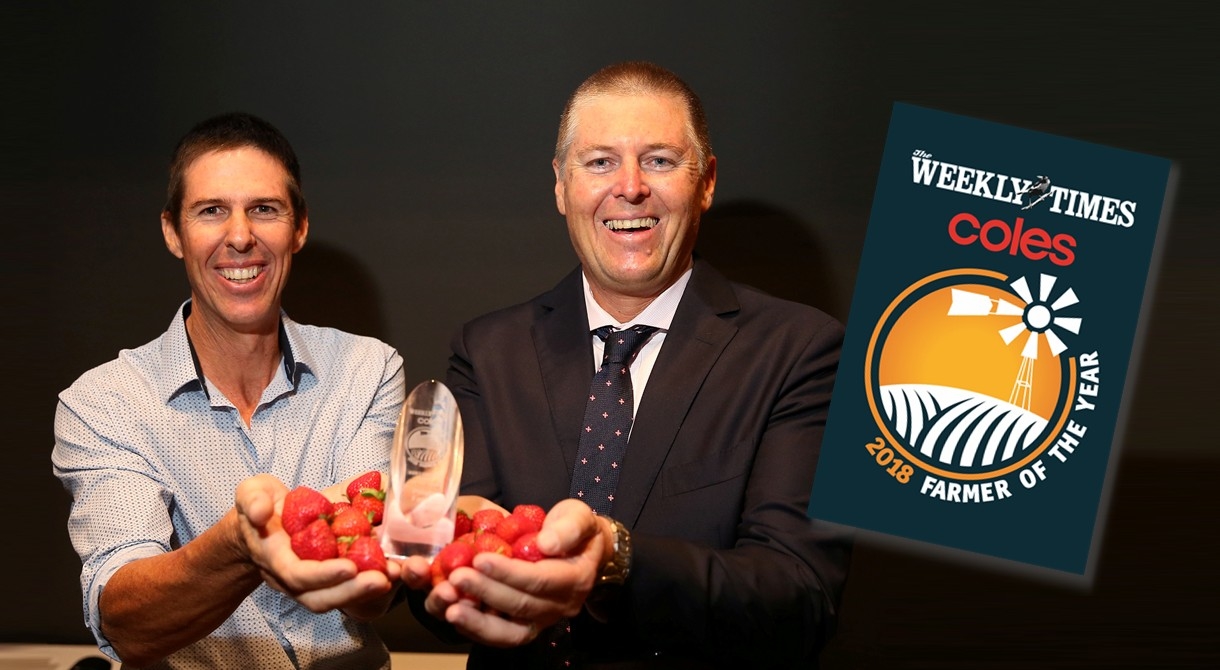 The Scurr family behind Piñata Farms produces premium pineapples, strawberries and raspberries and owns the breeding rights to grow and market specialty Honey Gold mangoes.
Piñata Farms was the only Queensland farming business to win one of six awards which honour the best in beef, cropping, dairy, horticulture, sheep and niche farming. Now in their seventh year, the awards were presented at a gala function in Melbourne on February 22.
Managing director Gavin Scurr said the win was a tremendous surprise.
"Thanks to The Weekly Times and Coles for hosting the awards which boost the profile of farmers within the broader community. The awards recognise what farmers do in terms of innovation, creating jobs and feeding and clothing Australia.
"Farming today is particularly challenging due to climate extremes and the high cost and availability of labour is an issue."
Mr Scurr congratulated all finalists for their efforts and paid tribute to all Piñata Farms' employees.
"The dedicated people who turn up to work at Piñata Farms every day actually won the award, as well as everyone along the supply chain who plays a part in getting our produce to market right through to the customers who buy our fruit."
North Queensland operations manager, Stephen Scurr, said: "We do what we do because we love it and it's great to see the hard yards we put in, recognised."
Australian farmers' resilience applauded
The Weekly Times editor, Ed Gannon, said the awards were the pinnacle of farming awards in Australia.
"The finalists and winners are the best in the nation and show that farming is a dynamic and profitable industry. When times are tough, as we are seeing with drought and floods, it is vital Australian agriculture is able to celebrate the innovators and show farming has a bright and prosperous future," Mr Gannon said.
Coles chief executive officer, Steven Cain, said over the past few weeks, farmers and rural communities had experienced the ravages of nature - from severe bushfires across Tasmania and Victoria to unprecedented floods in Far North Queensland.
"For too many, the hardship comes after a year punctuated by devastating drought. The resolve and resilience of farmers in the face of these challenges should be recognised and applauded," Mr Cain said.
"We want to celebrate the outstanding contribution that our farmers made in 2018 - and continue to make - by producing great-quality food for Australian families all year 'round."
New South Wales sheep farmers, Tom and Phoebe Bull, won the overall Farmer of the Year award. Other winners were: Texas Angus stud, Warialda, New South Wales (beef); Merced Farming, Wee Waa, New South Wales (cropping); Clint Theodore and Brooke Lane from Alvie, Victoria (dairy); and Anita Watt from Glenelg River Herbs, Balmoral, Victoria (innovation). All winners received $5000, with the overall winner receiving a further $10,000.