Yeppoon producer is Grower of the Year
06/06/2019
A Central Queensland mango producer, which has collaborated with researchers to trial the world's first autonomous mango harvester, has been named Honey Gold Grower of the Year.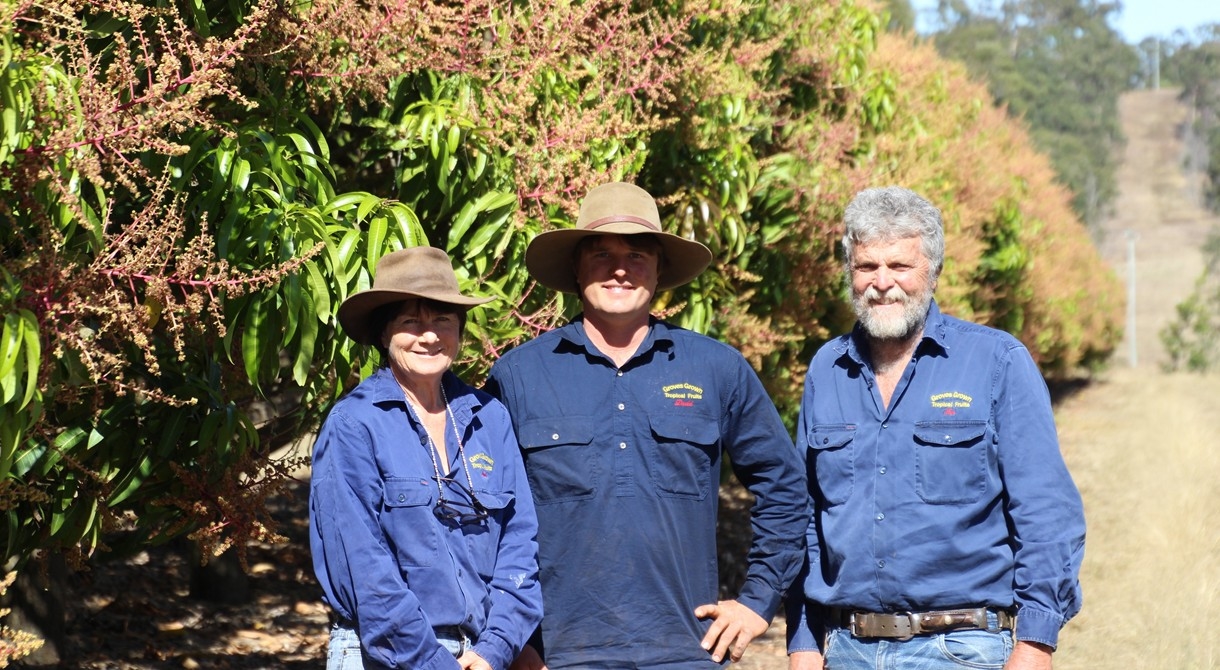 Piñata Farms named Yeppoon's Groves Grown Tropical Fruit its Honey Gold Grower of the Year at the 14th annual Honey Gold Congress in Katherine, Northern Territory earlier this month.
Groves Grown Tropical Fruit is one of 30 third-party growers around Australia producing Honey Golds under licence for Piñata Farms which owns the varietal rights.
Grower Ian Groves, who operates the family business alongside wife Sandi and son David, said the family was ecstatic to receive the award.
"Honey Gold growers are exceptional mango growers. We had to be selected to grow the variety, and we work closely to adhere to Piñata's very high standards. To be selected as the best among Honey Gold growers, is a real feather in the cap," he said.
"We were very lucky with the weather last season which contributed to the quality of fruit and meant 98.5 per cent of our fruit could be sent straight to the chain stores as premium grade.
"As we have other crops we can step in and out of, we were also able to delay harvesting for 10 days to give Piñata more production flexibility. Not a lot of growers can do that, due to the nature of their crops.
"The job that Piñata does with marketing Honey Golds, providing agronomic and grower support, training and maintaining high grower returns is superb. It gives growers confidence in the Honey Gold model."
Groves Grown Tropical Fruit has collaborated with Central Queensland University's Professor Kerry Walsh and his research team for several years to test technological advancements in mango production including an auto-harvester and a sensor which monitors flowering to predict maturity, enabling growers to plan labour.
The auto-harvester which picked fruit at Groves' farm last season, was about three years away from becoming a commercial reality, he said.
Groves Grown Tropical Fruit produces five mango varieties, three avocado varieties, lychees and carambola over some 100 hectares.
Piñata Farms' key account manager, Rebecca Scurr, said the Grower of the Year award considered a grower's packout rate, excellence in grower practices, communication and administrative efforts.
"Groves Grown Tropical Fruit also demonstrates willingness to innovate and commercial flexibility - key attributes crucial to growing a specialty line," she said.
Piñata Farms and its growers produce Honey Gold mangoes in five states for national distribution between November and March.
Fourth generation producer named industry Young Gun
Piñata Farms' key account manager, Rebecca Scurr, has been awarded the 2019 Queensland Strawberry Growers Association's Young Guns award.
A fourth generation producer, based at Wamuran, south-east Queensland, Ms Scurr has been instrumental in developing the Piñata brand and increasing the profile of Queensland-grown Piñata strawberries since she joined the Scurr family business in 2010.
Ms Scurr manages the national sales of Piñata strawberries, specialty BerryWorld-branded strawberries and raspberries and Piñata pineapples year 'round as well as specialty Honey Gold mangoes seasonally.
In her role for BerryWorld Australia, she has been involved in developing the premium, specialty BerryWorld brand since it was launched in 2017.
Mentored by her father and managing director Gavin Scurr, Ms Scurr said she was passionate about adopting new ways to produce and market strawberries.
She also played a leading role in Piñata's market response to the 2018 national strawberry contamination crisis, ensuring Piñata strawberries remained on supermarket shelves throughout the event.
"I was very surprised and honoured to receive the award. It's great to see young people in farming recognised by industry. Not enough (young people) see our industry as an enticing career path. It can be both challenging and extremely rewarding," she said.
"As technology in horticulture increases along the supply chain, it offers endless opportunities in the commercial space. Once horticulture is in your blood, there's nothing quite as fast-paced or exciting."
The award was among several presented to strawberry producers at the annual industry awards night on May 10.
Piñata joins trek in aid of Royal Flying Doctor
A team from Piñata Farms has joined other Australian philanthropists in the annual Outback Car Trek which left South Australia on June 3 in a 12-day odyssey to raise funds for the Royal Flying Doctor Service (RFDS). It is the sixth consecutive year that Piñata Farms has participated.
Piñata Farms has raised more than $80,000 for the RFDS since 2014, through trek participation and in-store promotions of Piñata pineapples.
Trekkers are due to arrive in Darwin, Northern Territory on June 14. They will travel over some of Australia's most challenging outback roads via the Flinders Ranges, the Birdsville Track, Mt Isa, Hells Gate, Jabiru and Katherine in an effort to help the RFDS reach its target of $30 million in 30 years.
Travelling in Car 13, a modified 1970 Holden panel van and a support vehicle, are managing director Gavin Scurr and wife Julie, North Queensland operations manager, Stephen Scurr and son, Josh.
Team Piñata aims to raise a total of $20,000 including $18,000 from corporate sponsors and $2,000 from public donations via an Everyday Heroes' fundraising page.
Gavin Scurr said Piñata Farms was proud to support Australia's most reputable charity which directly provided emergency health care for remote and regional communities.
Now in its 91st year, the RFDS is one of the largest and most comprehensive aeromedical organisations in the world, providing extensive primary health care and 24-hour emergency service to people over an area of 7.69 million square kilometres.