Strong season for Honey Golds
15/10/2020
Piñata Farms is predicting a strong season for premium Honey Gold mangoes with harvesting set to begin in the Northern Territory as early as next week.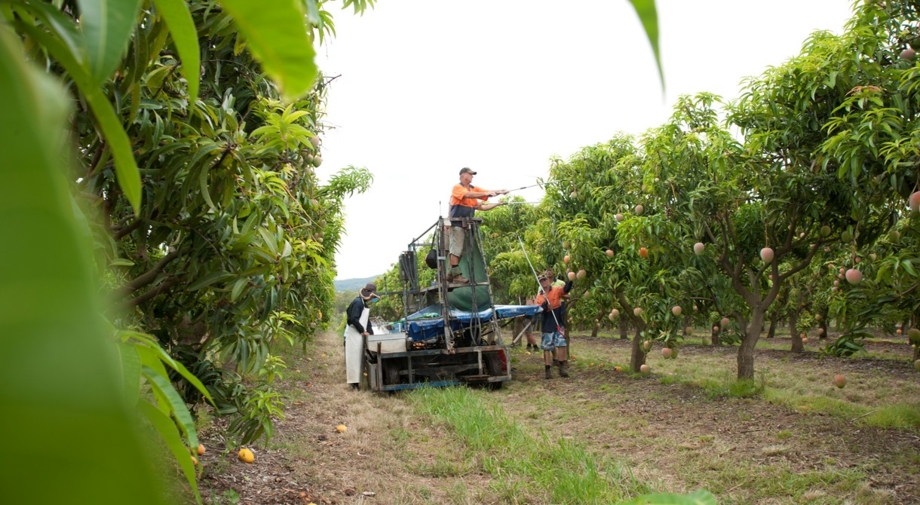 Managing director Gavin Scurr said the crop was well up compared with two previous light seasons, with more than 60,000 trees in three Territory growing regions due to produce a crop.
Piñata Farms has also secured enough seasonal workers from Vanuatu to harvest the crop at Darwin, Katherine and Mataranka from late October to early December. This follows extensive negotiations with key stakeholders including industry and government, amid a national shortage of farm workers due to the global pandemic.
"We've been proactive in engaging with the decision makers to organise labour for the mango harvest since March. As we have multiple farm sites, we can send them to other farms after the mango harvest is complete in the Northern Territory," he said.
Mr Scurr said the Northern Territory crop was running later than expected in all regions, following a hot, dry and windy winter.
"However, we're expecting a strong season, with predicted volume well up on the previous two seasons and better than expected. It's still lighter than we'd like over a three-year average but is returning to where we want it to be."
Mr Scurr said the Humpty Doo orchard at Darwin Fruit Farms - a joint venture between LaManna Premier Group and Piñata Farms - would produce its second crop this season. The region was specifically selected to extend the Honey Gold season by up to two weeks, because it is slightly warmer and more humid than Katherine and Mataranka.
"We expect some Darwin trees will produce a crop in mid to late October, with the bulk of the crop producing in the first week of November. The farms at Katherine and Mataranka will follow from mid November to early December."
Mr Scurr said he expected the Humpty Doo farm to enter full production by 2024.
Piñata Farms and about 30 contracted growers produce specialty Honey Gold mangoes in five states between October and March.
"The Bowen and Mareeba season in Far North Queensland is running later than usual and (at this stage) south Queensland is on time, so we're expecting an overlap of fruit in January.
"Additionally, there may be an industry wide oversupply at that time due to airfreight challenges affecting exports. We have already organised our sales program for the season and are bracing for an impact on prices at that time," he said.
A new look for Honey Golds
An Australian consumer favourite, Honey Gold mangoes have been produced by Piñata Farms since 2009. This season, following a corporate brand refresh, Honey Gold mangoes will feature an updated sticker, customised for each packhouse for traceability purposes.
Honey Gold mangoes are available at leading supermarkets nationally. This season's fruit will be available nationally from November 20.
Katherine farm managers appointed
As part of Piñata Farms' mango operations, Gundeep Singh has been appointed Katherine farm manager and Geoff Maxwell, leading hand. Third party grower Nick Ormsby of Razor Rock Farm, Katherine has been managing the farm for the past 18 months and will stay on in a transitory role during the Territory harvest.
"Nick has done an exceptional job of managing the farm in that time and we look forward to welcoming the new team with his support," Mr Scurr said.