A new look for a new era
13/11/2020
Leading Australian fresh fruit producer Piñata Farms has refreshed its branding presence, launching a new look for all lines.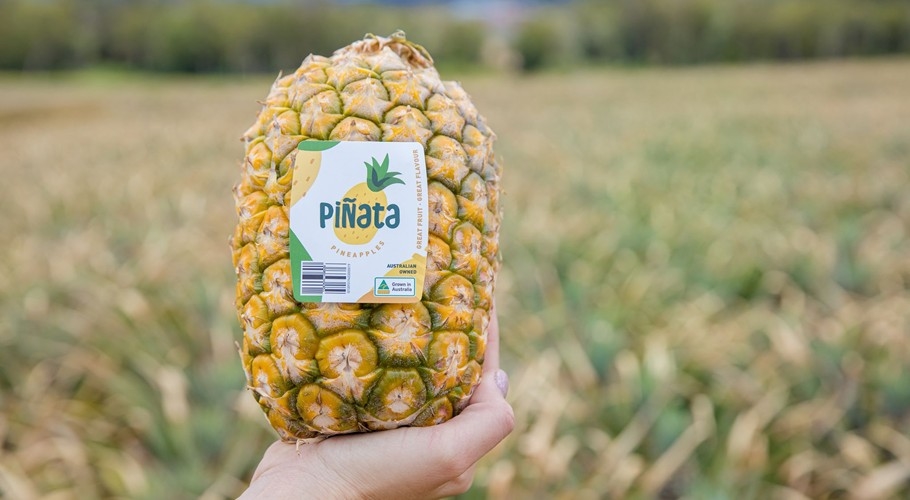 Managing director Gavin Scurr said the new look was the first significant brand update undertaken by the Queensland-based pineapple, strawberry, raspberry and mango producer in the past 10 years.
"The Piñata name is well recognised and loved by consumers and we wanted to leverage off that and modernise our look across all aspects of our business, including labels and packaging for four very different produce lines," he said.
"Our objective was to build on branding elements that were market effective, refine the elements which were less effective and integrate all elements to better define Piñata's personality and core values as a family owned and operated farming business."
"We were looking for a fresh, vibrant and lively presentation to reflect both our growth since we started growing pineapples in the 1960s, and our future.
"For our fruit lines, we set out to achieve synergy and continuity with pineapple labels, strawberry punnets and mango stickers presenting three different design challenges in terms of size and application. Our raspberries are branded BerryWorld.
"Our retail customers love our new look and are excited about unveiling it. We're confident it will also resonate with consumers nationally," he said.
Piñata Farms engaged Brisbane design agency Juno Creative to refresh the brand including corporate logo and produce logos, iconography, fonts, colours and packaging, with various applications including uniforms, vehicles, farm signage, stationery and merchandise.
The refreshed brand is currently being phased in with Piñata pineapples the first to sport the new look, followed by specialty Honey Gold mangoes this season.
The cornerstone of the new look sees the corporate Piñata Farms logo revitalised to give a first impression of a smile. The previous corporate bright light green has been refined to become a more earthy, forest green.
New-look Piñata pineapples
Piñata pineapples grown in Queensland and the Northern Territory feature square white labels with a stylised yellow pineapple and forest green leaf element. The new look includes variations for extra large and baby pineapples and has started to appear in stores around Australia as existing stock is phased out.
Piñata pineapples are available at all leading supermarkets nationally.
New-look Honey Gold mangoes
Specialty Honey Gold mangoes grown in five states, will display the new stickers in light green when the first fruit of the season is harvested in the Northern Territory this month. As the premium mangoes are grown by some 30 contracted growers around Australia, each packhouse is required to display labels bearing its own unique GS1 code for traceability.
The brand refresh also includes new carton packaging with a base of white overlaid with stylised mango elements in orange and green.
"One master design for mango boxes replaces multiple variations which previously differentiated whether mangos were destined for the domestic or export markets," Mr Scurr said.
Honey Gold mangoes are available at leading supermarkets nationally between November and March.
New-look Piñata strawberries
Piñata strawberries will feature their new look from next winter when production gets underway at Wamuran, south-east Queensland. Punnets in 250g and 350g will both feature rectangular labels with a white base and red stylised fruit and carry through the refreshed Piñata green leaf element.
"Our characteristically distinctive red labels for strawberries have served us well. The use of red has made our strawberry punnets 'pop' on shelves, so we wanted to enhance that recognition by retaining an element of red which we know is eye-catching and associated with Piñata strawberries," Mr Scurr said.
He said the new design allowed a window into the punnet to focus attention on berry quality.
The strawberry label design had been future-proofed to allow for a planned transition from punnets to heat-sealed, tamper evident film from next May, he said.
When in season, Piñata strawberries are available at leading supermarkets along the Eastern Seaboard.
As well as its core lines, Piñata Farms also produces premium BerryWorld-branded raspberries for its joint venture with UK-based BerryWorld Group. BerryWorld raspberries launched a new look in August 2019 as part of a global rebranding exercise to celebrate BerryWorld's 25 years as a berry breeder and marketer.