Spring into sweet, abundant pineapples
01/10/2021
Spring is the sweetest time of year to tuck into Queensland-grown pineapples as Australia's largest pineapple producer, Piñata Farms, enters peak production.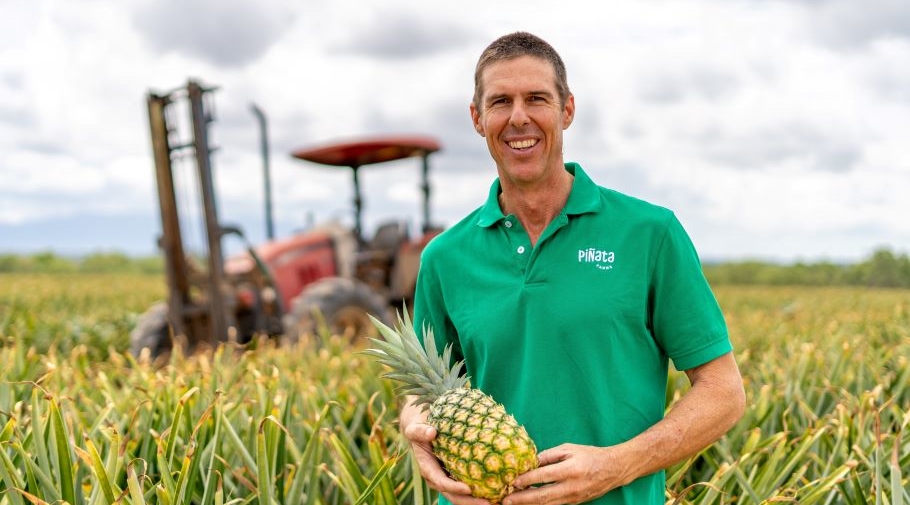 General manager tropical Stephen Scurr said fruit would be abundant from mid-to-late October when new-season harvesting began at Mareeba, Far North Queensland.
Piñata Farms produces pineapples for the fresh market at Wamuran, south-east Queensland and Mareeba, Far North Queensland, supplying leading supermarkets nationally.
"Winter production will soon finish at Wamuran following an earlier-than-usual flush of large fruit in July and August. We traditionally expect a flush of big fruit around September but this year it came earlier, due to regular rainfall in the south-east in the past two years," Mr Scurr said.
Spotlight on North Queensland crop
"Mareeba's spring crop is looking promising and we expect to harvest excellent quality fruit throughout the season (until next March).
"Consumers can expect average-sized fruit around 1.5kg which is full of flavour and has a touch of green on the skin yet is sweet inside. That's typical for this time of year. In winter, fruit often has a more orange shell."
He said average-sized pineapples were the most sought-after as they could be cut and eaten at once.
While demand for some fresh produce lines had been flat during winter, demand for pineapples had remained stable, he said.
"Pineapples are generally an impulse buy. If fruit looks great on the shelf, shoppers will buy it. Despite the upheaval of the past two years with many Australians in and out of lockdown, pricing for pineapples has also remained stable."
Several third party growers in the Wamuran district also produce pineapples for Piñata Farms. Pineapples are picked, packed and distributed every day of the year.
Piñata pineapple milestones
Piñata Farms' pineapple operation began with a single farm at Wamuran in the 1960s. It now grows pineapples over more than 300 hectares.
Piñata Farms was the first Australian producer to introduce a bin tipper water dump in its packing shed in 1995. This is best practice for washing debris off fruit before grading.
Hand-picked pineapples were originally carried out of the field in bags or by wheelbarrow. Later they were packed in the field in a harvester built by managing director Gavin Scurr. Today fruit is transported to the shed for packing where the latest technology is employed to test quality and grade fruit.
Piñata pioneered production at Mareeba in 1997. To combat the nine-month dry spell, Piñata installed what is believed to be the first centre pivot irrigation system used anywhere in the world in pineapple production.