FNQ producer wins Honey Gold award
17/06/2022
Far North Queensland mango producer JPK Farming which ventured into mangoes for the first time in 2018 was awarded Honey Gold Grower of the Year at the 2022 Honey Gold Congress.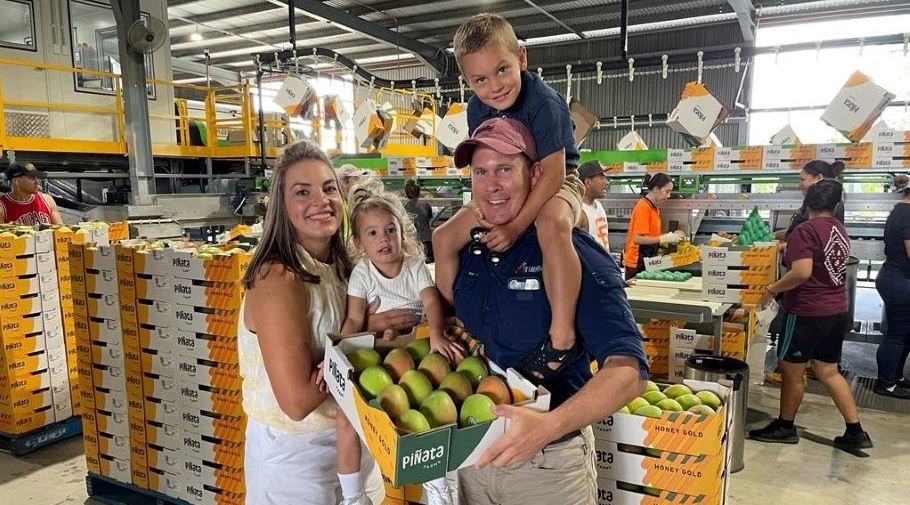 Piñata Farms' sales and marketing manager Rebecca Scurr said JPK Farming of Mutchilba near Mareeba achieved an excellent premium packout and forecast its 2021-2022 season volumes to within 10 per cent accuracy, in only its fourth Honey Gold season.
JPK Farming is owned by Jan and Carina van Niekerk and has some 7,500 Honey Gold mango trees spread over more than 24 hectares in the district. The operation also produces other mango varieties including Kensington Pride, Keitt and R2E2s over a total of 110 hectares. Mr van Niekerk's two brothers, whose farms are nearby, produce citrus and avocados, all of which are packed at JPK Farming.
Mr van Niekerk said JPK Farming achieved a 28 per cent increase on volume in 2021-2022 compared with the previous season – a result he attributed to refined farming practices including pruning and spray timing.
A former helicopter pilot from South Africa, Mr van Niekerk was raised on his family's extensive table grape and citrus farms, producing fruit for export. He had no prior knowledge of producing mangoes before migrating to Australia in 2014 and buying the Mutchilba property in 2018.
"That's when my Honey Gold mango career started. As we went along, we wrote down everything and worked with other growers and Piñata Farms to improve our results. It's about calibrating spray blowers including using the right nozzles, spraying and pruning at the right time, training people in detail, setting up procedures and taking no short cuts," he said.
"Growing produce is definitely more challenging than working as a pilot as you're up against the elements of nature, fluctuating market forces, dealing with market agents and consumer expectations. But the lifestyle is very rewarding and that's a bonus."
Following a major upgrade to its packing shed (including implementation of a Maf Roda Quality Assurance system to operate up to seven months a year), JPK Farming was regrafting trees to increase Honey Gold plantings and trialing high density planting to increase yield per hectare, he said.
"We are topworking 3,500 R2E2 trees in three stages (total of 10,500) to Honey Gold trees so Honey Golds become our main line over the next five years. The variety is more consistent than other mango varieties and achieves a premium retail price because of Piñata's marketing support."
He said winning the award was a major driver which motivated the entire team. In peak season, up to 50 people work at JPK Farming.
Mr van Niekerk paid tribute to the efforts of his team including production manager Francis Arokiasamy.
Mr van Niekerk and Mr Arokiasamy accepted the award at the congress in Cairns in May. Some 30 third-party growers in five states produce Honey Gold mangoes under licence for Piñata Farms from November to March seasonally. Specialty Honey Golds fetch a premium at retail level and are available at leading supermarkets nationally during summer.
Growers from all over Australia gather at the annual congress to share and celebrate seasonal outcomes and review practices.
"JPK Farming's communication throughout the season was excellent, both on farm and in admin, and they were flexible around harvest timings to help ensure a smooth and consistent supply of fruit," Ms Scurr said.
"We congratulate all growers on their efforts as the past two years have been challenging on many fronts. Their continued commitment to excellence and the Honey Gold brand is acknowledged."