Strawberry brand refreshed
11/08/2022
Winter strawberry season is underway as Piñata Farms launches supply chain and packaging innovations and a refreshed branding presence, raising the bar for Australian strawberries.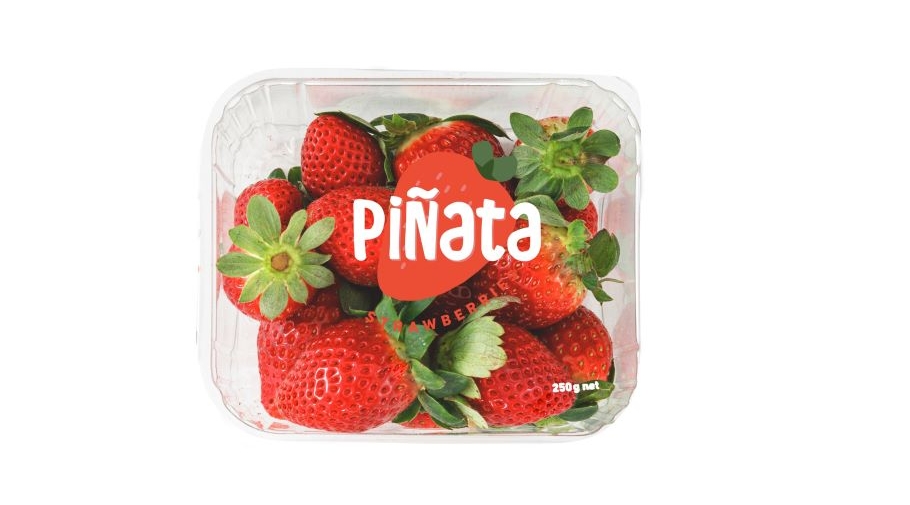 A return to ideal growing conditions at Wamuran, south-east Queensland, following challenging La Niña-induced pre-season conditions had buoyed hopes for producing consistent quality, and flavoursome fruit until October, sales and marketing manager Rebecca Scurr said.
"We planted significantly less strawberries this season to account for the predicted conditions, allowing the growing team to focus on plant health and performance. Our post-harvest focus has been on improving steps along the supply chain to continue delivering exceptional quality fruit to our retail partners," she said.
Packing shed innovations included the addition of a quick-chill cool room, modifications to bench assembly, customisation of a heat-sealing machine to accommodate three different punnet sizes and installation of a new conveyor, she said.
"This is the first season that 100 per cent of our premium strawberries are in heat-sealed punnets. Heat-sealing reduces packaging by 30 per cent and keeps berries fresher and firmer for longer. All premium berry lines grown by Piñata Farms – including BerryWorld raspberries – are now packed in heat-sealed punnets and all punnets pass through a metal detector before distribution," she said.
Ms Scurr said the addition of the quick-chill cool room used the latest technology to get the field heat out of the berries faster, increasing shelf life.
This season marks the first outing for Piñata's premium refreshed strawberry brand.
"We've updated the strawberry brand as part of a major corporate rebrand across our entire business. Strawberries are the last to roll out the new look which features a bright red, contemporary strawberry shape and lots of clear space around logo elements to allow consumers to see the fruit," Ms Scurr said.
"Consumers are familiar with a bright red Piñata strawberry label and we're confident they will love the contemporary look, as our customers do. The feedback from retailers is that our punnets continue to stand out on supermarket shelves."
She said shelf appeal and maintaining a premium retail position were among the key drivers behind the update.
Piñata strawberries are available in various sizes at Woolworths and Aldi supermarkets. Click to download high-res image.
"From the farm to the shelf, we strive for quality all along the supply chain and keep upping the ante through innovation or improved practices to achieve it.
Ms Scurr said strawberry prices – set by retailers – were extraordinarily high early in the season due to a shortage of fruit from Sunshine Coast growers who were impacted by flood earlier in the year and planted fewer runners as a result.
"However, with the late August peak yet to come, consumers can expect to see more strawberries including more premium Piñata strawberries on shelves. We're confident that consumers will see the value in the eating experience and choose premium," she said.
Look for premium Piñata strawberries at Woolworths and Aldi supermarkets in Queensland, New South Wales and Victoria in 250g and 350g punnets. Family and value offerings in 500g clamshell packs are also available.
Piñata Farms has produced winter strawberries at the Sunshine Coast since 2000. It also produces summer strawberries at Stanthorpe, southern Queensland and will harvest its inaugural Tasmanian crop at Orielton in late November.