Big spring pines boost crop
28/08/2020
Spring has come early for Piñata Farms which is harvesting traditionally big spring fruit several weeks earlier than usual.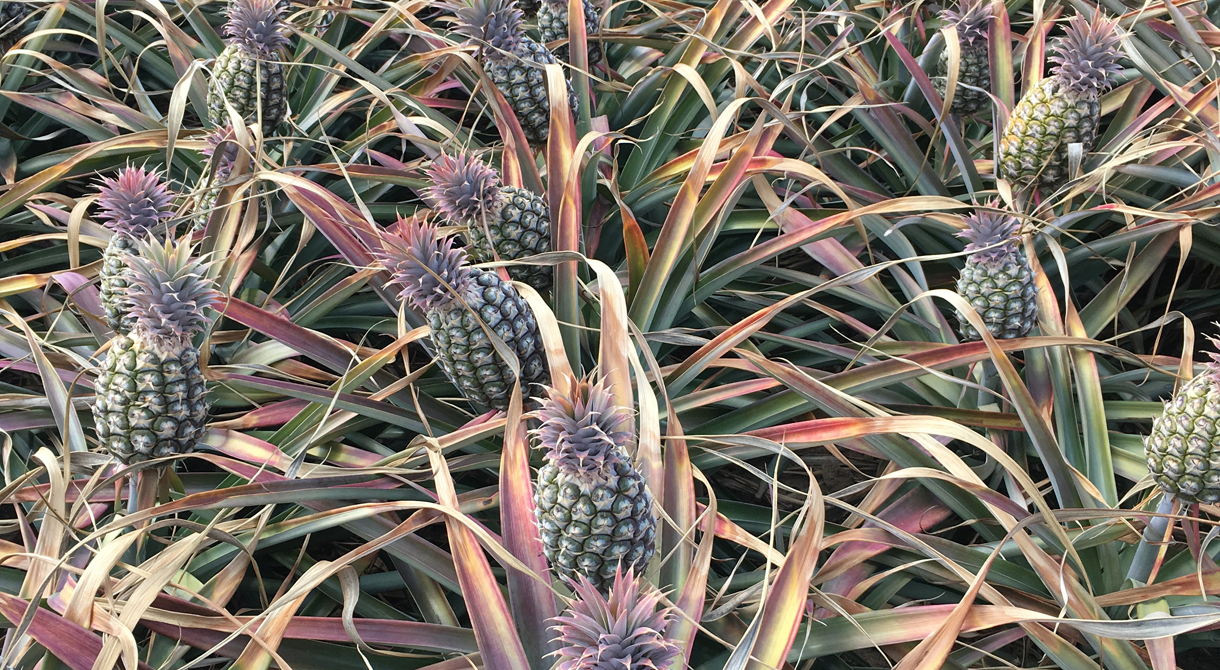 Sales and marketing manager Rebecca Scurr said the early arrival of big fruit could be attributed to growing conditions at Wamuran, south-east Queensland last summer when the spring crop was flowering.
"When pineapples flower, conditions determine how many individual eyes are set, then as fruit matures, the eyes fill out. This season, many pineapples have a lot of individual eyes. This is not unusual for spring, but explains why consumers will see bigger fruit now and for a while," she said.
"Regular rainfall at the critical flowering stage has influenced both size and eating quality, which is excellent" she said.
The average size of a Piñata pineapple is nine, with each about 1.5kg. However, until October, Piñata expects more size fives and sixes, averaging about 2.8kg each from its main growing region, Wamuran.
General manager tropicals, Stephen Scurr who oversees production at all three Piñata pineapple growing regions - Wamuran, Mareeba in Far North Queensland and near Darwin in the Northern Territory, said other factors influencing size included the health of the plant at planting and crop density.
"The wider the spacing, the bigger the fruit. Generally, bigger plants have more stamina and can get through the cooler months better. Getting the moisture balance right is important. Pineapples need enough to keep them alive but not too much that they have wet feet," he said.
"At Wamuran, we predominantly plants tops collected from pines from the previous harvest. At Mareeba where there are several months between picking and planting - too long for many tops to be viable - we use a mix of planting materials including plants grown on a nursery block, pups collected from the mother plant and tops," he said.
Piñata has more than 6.5 million pineapples under cultivation at Wamuran and 5.5 million at Mareeba which will begin harvesting in October. Harvesting in the Northern Territory will resume in January. Piñata pioneered production at Mareeba in 1996 and at Darwin in 2015.
Piñata pineapples are distributed to some 18 supermarket distribution centres around Australia every day of the year and are available at leading supermarkets nationally.
A healthy dose of pineapple goodness
"At a time when consumers are thinking about their health, it's a great time to buy a big pineapple," Ms Scurr said.
"They're great value for money and provide many health benefits. Pineapples have a high Vitamin C content which helps boost immunity and the special enzyme, bromelain which research suggests can reduce inflammation and help heal wounds."
Victorians consumed more Piñata pineapples than other Australians and she expected strong sales from that state to continue in coming months.
Peak pineapple production in November, coincided with peak demand as traditionally consumers sought out refreshing tropical fruit during hot weather, she said.
Consumers should look for fresh, vibrant pineapples with a break of yellow on the base or eyes, she said.
"Pineapples ripen from the base up and are picked at the peak of ripeness. As they don't ripen after picking, we go to a lot of effort to pick ripe fruit, including taste-testing in the field.
"The shell colour can vary throughout the year and range from green to yellow, but the flesh is always golden yellow.
"And because pineapples are not a convenient fruit, there's an easy how-to-cut a pineapple guide on the back of our labels," she said.
A focus on quality from paddock to plate
Ms Scurr said fruit quality was everything to Piñata Farms.
"We are the only Australian pineapple producer to use a bin tipper water dump to unload and wash fruit before packing. We've been using that method for at least 25 years to minimise bruising. Pineapples are not pumpkins - they might look tough, but they bruise easily and we want to supply the best pineapples we can."
The water dumps are in place at all three growing regions.