NT grower scoops Honey Gold award
26/05/2021
Northern Territory third party mango grower Razor Rock Farm has been named Honey Gold Grower of the Year.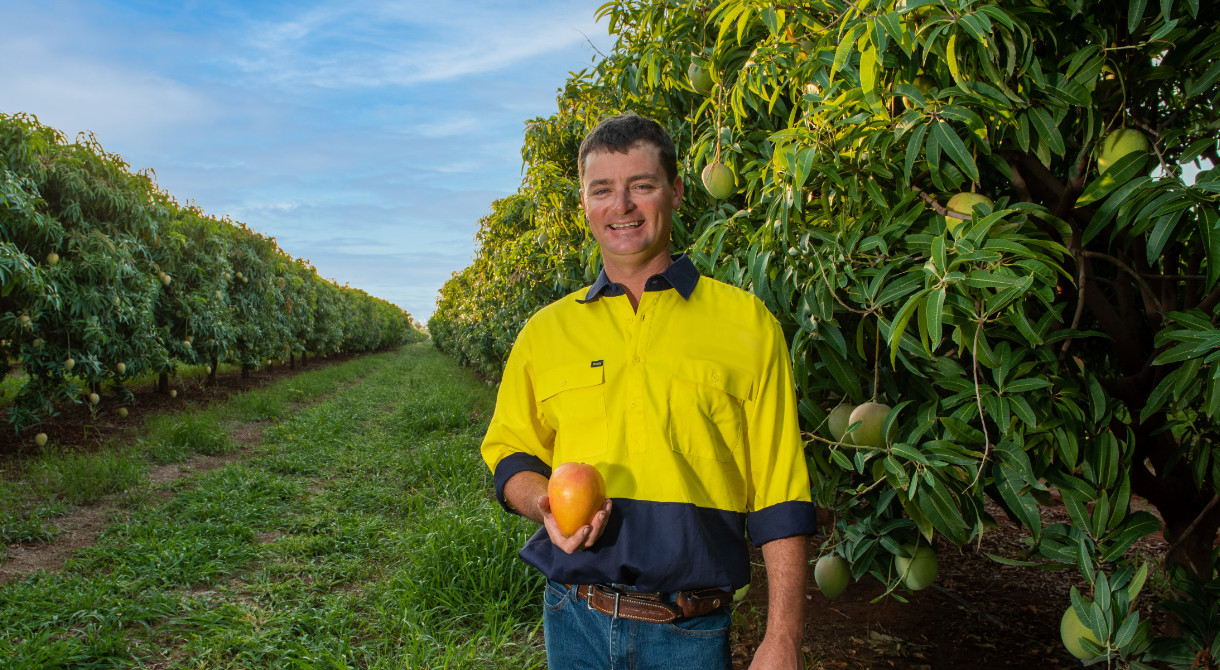 Katherine-based Razor Rock Farm growers Nick Ormsby and Whitney Dollemore received the award for achieving overall excellence including 96 per cent accuracy in forecasting, a high premium packout and a 30 per cent increase in volume during the 2020-2021 season.
Mr Ormsby, who has grown Honey Golds over 20 hectares for four years, also consults on the management of Piñata's Katherine and Mataranka farms.
He attributed Razor Rock Farm's results to an intensive fertiliser and irrigation program following two failed wet seasons, as well as attention to detail.
"Geographically my farm is at a low elevation in the Katherine district and has red, cracking clay soil. This is quite different from the sand country of Piñata's Katherine farm and requires a different level of growing, he said.
"The weather is the main challenge of farming in the Northern Territory - we go from one extreme to the other. Temperatures are getting warmer and we're constantly tweaking growing practices to deal with that," he said.
"While the Honey Gold variety is pretty consistent, the trees need some prompting with a detailed nutrition program to achieve optimal results."
Mr Ormsby said he closely analysed images of the crop's development throughout the year and used detailed heat sums to forecast harvest timing and volume.
"I take a lot of photos and compare key points in the crop cycle year-on-year to predict a harvest date about two or three months out. But that all depends on the weather.
"We implemented various changes after the two failed wet seasons. For example, we used more sunscreen on leaves than ever in the past two years as there were no cloudy days which come with a wet season."
He said the award meant his agronomic approach to growing Honey Gold mangoes was on track and he would now expand Razor Rock Farm.
Razor Rock Farm had 3,600 trees and would this year plant another 4,000 this year, he said.
"The benefit of being among a group of growers such as the Honey Gold group, is that we're all striving to achieve the best quality fruit. Everyone gains from having a consistently good mango in the marketplace," he said.
Originally from Renmark, South Australia, Mr Ormsby grew up producing citrus, grapes and almonds. He has grown mangoes in the Northern Territory for some 15 years.
Growers achieve all-round excellence
About 30 third party growers in five states produce Honey Gold mangoes for Piñata Farms which owns the varietal breeding rights. Honey Gold mangoes are available at leading supermarkets nationally between November and March.
Close observation of flowering patterns combined with gut instinct helped Bowen grower Jeff Bowditch of Bowditch Produce achieve outstanding forecasting results at his own farm and that of nearby Euri Gold Farms where he is orchard manager.
Mr Bowditch forecast Euri Gold's volume to within 1 per cent accuracy and Bowditch Produce's to within 8 per cent. He starts forecasting a season's volume and harvest start during flowering after comparing detailed year-on-year observations and images.
"Successful mango marketing and ensuring a consistent supply depends on accurate forecasting" Mr Bowditch said.
As an example of grower innovation, Yeppoon grower, Groves Grown Tropical Fruit installed an exhaust in its packing shed to eradicate odours caused by dimethoate used to treat fruit fly. The stainless steel system, used for the first time last season, was custom-made to owner Ian Groves' specifications. It funnels fumes via a chimney in the shed roof.
General manager tropicals Stephen Scurr, who oversees Piñata's operations in the Northern Territory and Far North Queensland, paid tribute to the achievements of all growers.
"Despite weather challenges and a labour shortfall caused by COVID, the Honey Gold harvest went ahead. That was due to hard work, planning and organisation. We're now already working as a group to plan the next harvest," Mr Scurr said.
This year's Honey Gold Congress was held at the Sunshine Coast on April 28 and 29.