Piñata welcomes new pine sales manager
16/11/2020
Piñata Farms has appointed agribusiness graduate Tom Healy to the position of pineapple sales and supply manager.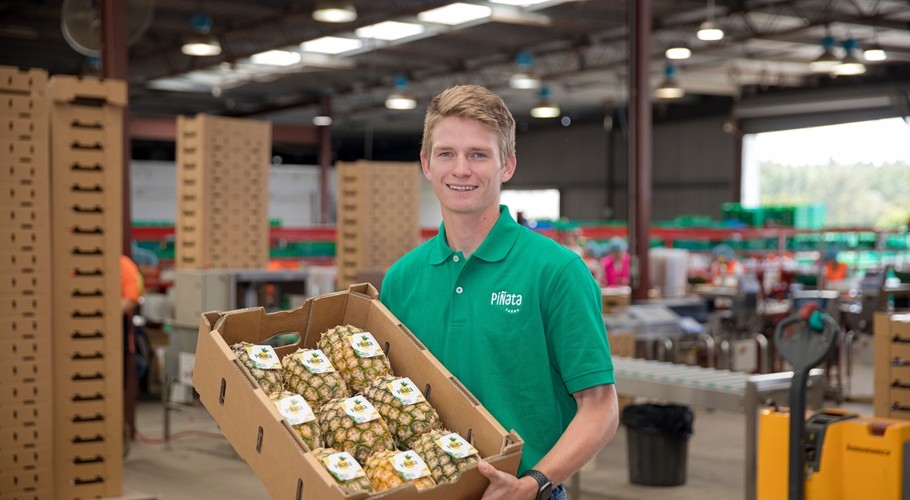 Healy, 24, manages the year 'round sales and supply of Pinata pineapples to domestic supermarket customers nationally as well as central markets across the country.
His responsibilities include working with growers to plan and forecast the supply of high-quality pineapples, liaising with customers to understand their needs and providing supply updates as required. He is responsible for delivering Piñata pineapples to customers in specification, on time, in full and at the right price, 365 days of the year.
A passion for Australian agribusiness
It was at high school, that an agricultural science teacher sparked the idea of agribusiness as a career option and inspired him to study agribusiness at university.
Healy has a Bachelor of Agricultural Business from the University of Queensland.
"I discovered a real passion for Australian agriculture throughout my studies and I am now excited to see what sort of career I can create in the fast-paced environment of fresh produce," he said.
As part of his final assessment at university, he collaborated with Piñata Farms on a project examining pineapple shell colour and how it influenced consumer buying behaviour and decision making.
Healy who also harbours dreams of playing cricket for Australia (as his father Ian did), is passionate about driving an agribusiness career alongside his cricket ambitions.
Prior to joining Piñata Farms, he worked as a sales and operations assistant at fresh produce wholesale business, Alfred E Chave, based at the Brisbane Markets.
In that role, he gained a wide range of experience across the business with time spent in international and domestic sales, logistics, working on operational enhancement projects, inventory control and as a research and development assistant for its start-up trading platform, Phoenica.
"I owe a lot to the Joseph family at Alfred E Chave for giving me a foot in the door to an ag industry that I knew I needed early on in my tertiary studies. My time in the Brisbane Markets really opened my eyes to the fresh produce supply chain, how it works and the intricacies involved getting produce to Australian consumers as fast and fresh as possible.
"I have also begun to understand and appreciate the importance of strong relationships and the value that can be created when they are established among key supply chain players. Given the nature of our industry and the unknown challenges faced every day, it is crucial to be working with aligned partners who you can trust and rely on when needed most."
Healy sees the challenges of dealing with perishable products as opportunities for creative problem solving.
"No two days are the same. It's a challenge to stand up to adversity and make something work when the cards aren't in your favour.
"Forecasting the volume of fruit to market ahead of time is a particularly challenging part of my role. You would think pines would be a rather easy crop to forecast because, in theory, every plant that goes into the ground should produce one piece of fruit in two years. Anything could happen in that time - generally weather-related issues. You've got to be flexible to react quickly, re-plan and re-execute."
"I thank the Scurr family for this opportunity and I'm excited to continue on the great work done before me."
Healy is based at Piñata Farms' head office at Wamuran, south-east Queensland. He joined the family owned and operated fresh produce business in August and works alongside sales and marketing manager, Rebecca Scurr, a fourth generation of the Scurr family behind Piñata Farms.
Healy continues to play cricket as a wicketkeeper and batsman at Northern Suburbs Cricket Club.